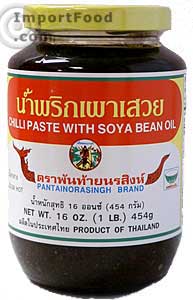 Prik Pao (chile paste with soyabean oil), 16 oz jar
Prik Pao (or "namprik pao") is legendary in Thailand and has been a staple in Thai households for generations. This is a cooked chile paste with a variety of uses, and it's the key ingredient in tom yum.

For a quick and delicous spicy meal, simply set one tablespoon prik pao in a small dish. Next to that, a bowl of steamed jasmine rice. Now put a little steamed vegetable on top of the rice, add a dab of prik pao, and take a bite. Wonderful flavor.

You can add Prik Pao to any soup or noodles, even use it as a spicy sandwich spread.

This product has the prestigious Shell Shuan Shim award. Ingredients: sugar, shallot, garlic, soyabean oil, dried chile, fish sauce, dried shrimp, msg, paprika. No preservatives. Product of Thailand. Packed in glass jar.

We also offer two excellent alternatives:
Mae Pranom brand white label prik pao
Mae Pranom brand famous yellow can prik pao

Prik Pao used extensively in our Thai Street Vendor Video Series.

NEW: See our video feature on how Prik Pao is made by hand.

| | | |
| --- | --- | --- |
| | | |
| | | $6.89, 1 16 oz jar Prik Pao, Pantainorasingh brand |