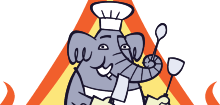 ImportFood.com

ImportFood.com
Peel and Slice Fresh Pineapple

Buy ingredients for this recipe!

Fresh pineapples are grown throughout Thailand, and sold year-round in every market. A particularly fragrant pineapple we like is the Phuket variety, grown in the south.

In Thailand you'll always find plenty of street vendors selling pineapples such as this hawker who converted a bicycle into a fresh fruit showcase. Visitors often note the unique, efficient way that Thais peel and slice pineapple. This method looks great, and minimizes waste. Here we demonstrate the technique using a fresh Hawaiian pineapple which is quite inexpensive, and very juicy.

It's very simple and takes just a few minutes. With a good knife, remove the top and the bottom, then slice down the sides to remove the thin outer peel of the fruit. Don't slice it thick, you want to leave the "eyes" of the pineapple intact. Then start at the top and move down in a diagonal circular pattern, cutting in on both sides to remove the eyes. Use the pictures below as a guide. When that's done, you'll have an attractive piece of fruit ready for the next stage.

After a brief rinse in cold water, put 1/2 teaspoon of sea salt in the palm of each hand and rub the pineapple. Salt helps remove a sour bite the pineapple may impart, and we really recommend it. Next, slice from top to bottom around the hard center core. Discard the core, and slice the pineapple into smaller chunks. Enjoy!

See our Thai recipes using pineapple:
Thai pineapple fried rice, "Khao Pad Sopparot"
Thai prawn and pineapple curry, "Kaeng Khua Saparot"
Gaeng hanglay, northern Thai curry

We also have a feature story on how to peel and slice fresh mango.

Kiwi brand stainless steel pointed knife. The knife is great for all kinds of fruit preparation, identical to what you find used throughout Thailand. At under $9 it's a terrific bargain. This knife has a slightly rounded blade and a nice pointed end. The pointed end helps get meat cut from around bones. A nice long blade that's relatively light yet very sharp, it's called a "meat knife" but you can use it to hack just about anything. Total length is 11", the blade is 6.5". Feels really nice in your hand, and what a great price. Hardwood handle with brass rivets. Made in Thailand and stamped with Kiwi Brand Made in Thailand.

Knife
$8.65


Email This Recipe

Send this recipe to yourself or a friend.

Comments

Anonymous

May 26th, 2012
3:57 PM

Anonymous

March 5th, 2014
9:02 PM

Anonymous

June 8th, 2016
5:02 PM

Anonymouse

July 16th, 2016
6:30 PM

Add a Comment

Related Recipes

Thai Sweet and Sour Fish, 'Kraphong Khao Priao Wan'

Sweet & Sour Spareribs, 'See Klong Priao Wan'

Northern Thai Pork Curry, 'Gaeng Hanglay'

Thai Sweet & Sour Chicken Soup, 'Kaeng Som Gai'

Essential Thai Pantry

| | |
| --- | --- |
| | See the ingredients and cookware that every Thai kitchen should have. |

Find Another Thai Recipe

Search By: Name | IngredientsNeed more help? Check out our Thai Recipe Helper

Start typing the name of the recipe you are interested in.