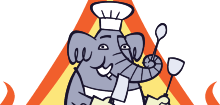 ImportFood.com

ImportFood.com
Fried Thai Peanut Cookie, 'Tua Tod'

Buy ingredients for this recipe!

You will need a Tua Tod Mold to make these delicious crispy peanut cookies. The recipe looks simple, but the frying takes a bit of practice. Go slow and make sure your wok is not too hot. To make the video we used the Tao charcoal burner.

Ingredients

2-3 cups raw peanuts
1 cup rice flour
2 tablespoons tapioca starch
3/4 teaspoon salt
3 tablespoons sugar
1 tablespoon egg, lightly beaten
1/2 cup lime stone water
1/2 cup coconut milk
vegetable oil for frying

Method

Prepare slaked lime water by mixing one tablespoon lime paste with 2.5 cups water. Stir well and leave until the lime crystals sink to the bottom. Then pour 2/3 cups of this clear liquid into another container. Discard the rest.

Wash your peanuts through a colander, rinse and set it to dry.

In a bowl mix rice flour, tapioca flour, sugar and salt then add 1 tablespoon egg. Stir until it well blended. Add a little bit of lime stone water, stir then add a bit more, stir until it's all dissolved together. Add coconut milk, mix well. Stir in the peanut.

Add vegetable oil in the wok on low heat. Pour batter into the Tua Tod Mold, just enough to cover the mold (if you pour too much, the cookies won't crisp nicely) Gently drop peanuts around the mold, leaving some space between each peanut.

Now dip the mold into the heated oil. When the oil covers the whole mold usually the batter will fall off the mold itself, but if not you can shake it a little bit, and use chopsticks to help. Fry in low heat until golden brown. Remove from oil and let drain on paper.

Enjoy!

Thai Street Vendor Video

All of our videos can be found in our Thai Street Vendor Videos section.

Email This Recipe

Send this recipe to yourself or a friend.

Comments

Add a Comment

Related Recipes

Kanom Dok Jok

Thai Sticky Rice Steeped in Coconut Milk, 'Khao Neeo Moon'

Steamed Thai Dumplings, 'Pun Sip Neung'

Fried Thai Pastry Balls with Tamarind-Garlic Sauce, 'Bayia'

Essential Thai Pantry

| | |
| --- | --- |
| | See the ingredients and cookware that every Thai kitchen should have. |

Find Another Thai Recipe

Search By: Name | IngredientsNeed more help? Check out our Thai Recipe Helper

Start typing the name of the recipe you are interested in.