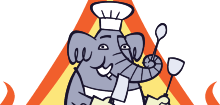 ImportFood.com

ImportFood.com
Fried Thai Pastry Balls with Tamarind-Garlic Sauce, 'Bayia'

Buy ingredients for this recipe!

We are not sure of the origin of this delicious Thai snack food, but it seems to have some influence from the ethnic Thai Muslims, perhaps from southern Thailand where Malaysian culture influences the cooking.

Ingredients

14 oz peeled split mung beans
1 tablespoon tapioca starch
3 tablespoon rice flour
1 teaspoon salt
1 teaspoon turmeric powder
1 teaspoon ground cumin
1 teaspoon ground coriander seed
1/2 teaspoon Thai pepper powder
1 tablespoon juice from fresh lime
vegetable oil for frying

Method

Rinse the mung beans, place in a bowl and soak overnight in just enough water to cover them. Drain the beans and place in a steamer (can be steamed in any conventional steamer, or may place them in a cheesecloth and steam them using our sticky rice cooking pot and basket). Remove from steamer. Let the beans cool.

Combine tapioca starch with rice flour. Slightly pound the mung beans mixed with flour mixture, cumin, coriander seeds, turmeric, salt, pepper powder and lime juice. Knead the mixture until smooth.

Using figertips doused in oil, form the mixture into bite-sized balls until all is finished. Fry the balls in hot oil over a moderate heat until crispy golden. Lift out and drain. Serve with Tamarind/Garlic Sauce.

Tamarind Garlic Sauce

This sauce can be used with other Thai snack foods, or however you'd like. Even try it as a dip for potato chips. It's absolutely delicious!

Ingredients

1/2 teaspoon ground Thai chile powder (more or less to suit your taste)
2 tablespoons tamarind concentrate mixed with 6 tablespoons lukewarm water
1-2 shallots, finely pounded in mortar and pestle
4-5 cloves garlic, finely pounded in mortar and pestle
1/2 teaspoon salt
3 1/2 tablespoons sugar

Method

Combine tamarind mixture, salt and sugar, stirring well over medium heat. Bring to a boil and taste, add more salt and/or sugar as you prefer. Simmer until slightly thickened, remove from heat. Add chile, shallots and garlic, stirring well.

Serve with whole dried chiles as an accompaniment.

Email This Recipe

Send this recipe to yourself or a friend.

Comments

Add a Comment

Related Recipes

Thai Sticky Rice Steeped in Coconut Milk, 'Khao Neeo Moon'

Steamed Fresh Fish and Vegetables Thai-Style with Dipping Sauce

Grilled Meat Dipping Sauce, 'Nam Jim Jeaw'

Thai Fried Rice with Chicken

Essential Thai Pantry

| | |
| --- | --- |
| | See the ingredients and cookware that every Thai kitchen should have. |

Find Another Thai Recipe

Search By: Name | IngredientsNeed more help? Check out our Thai Recipe Helper

Start typing the name of the recipe you are interested in.