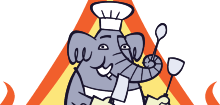 ImportFood.com

ImportFood.com
Simple Stir-Fried Bok Choy with Oyster Sauce

Buy ingredients for this recipe!

While many of our authentic Thai recipes involve a dozen different ingredients, and lots of preparation time, here we demonstrate how to prepare a simple and elegant bok choy using Thai oyster sauce and pepper powder. Served over jasmine rice, this quick delicious meal is something to practice and master. In 10 minutes, you can create a meal that rivals what the finest restaurants serve.

Ingredients

1-2 tablespoons vegetable oil
1 tablespoon garlic, chopped
2 fresh bok choys
1/4 cup soup stock or water
2 tablespoons oyster sauce
1/4 teaspoon sesame oil
Thai pepper powder (optional)

Method

Cut off the end of your bok choy, then separate all the leaves. Gently rinse leaves to wash away any dirt. Cut into 1.5 inch long pieces. Put the white bottom parts in one bowl and the green top parts in the other bowl.

Heat a wok to medium heat, add vegetable oil, heat. Add garlic, and fry until fragrant (do not burn garlic). Turn the heat up to medium-high, add white bok choy. Stir fry gently until it gets soft then add the rest of the bok choy. Add oyster sauce and soup stock. Stir until well blended, then cover and let cook for 1 minute. Remove the cover, sprinkle with sesame oil and Thai pepper powder. Transfer to serving plate. Serve immediately with steamed jasmine rice. Enjoy.

Email This Recipe

Send this recipe to yourself or a friend.

Comments

Harold G. Lierly

October 5th, 2011
10:00 AM

Liz

October 7th, 2011
4:30 PM

Frances

October 8th, 2011
11:44 AM

Anonymous

August 28th, 2013
4:01 AM

Anonymous

August 28th, 2013
4:01 AM

Breeze

September 11th, 2013
2:08 PM

Breeze

September 11th, 2013
2:14 PM

Anonymous

December 20th, 2013
7:25 PM

Anonymous

February 9th, 2014
7:54 PM

Missia

March 31st, 2014
4:44 PM

tiny.mama

April 30th, 2014
10:03 AM

Anonymous

June 23rd, 2014
12:22 AM

Add a Comment

Related Recipes

Thai-Style Noodles Baked in Clay Pot, 'Bamee Gai Op Mor Din'

Stir-Fried Brussels Sprouts with Garlic and Chile

Thai Cashew Chicken, 'Gai Pad Med Mamuang Himaphan'

Thai-Style Wide Noodles In Thick Sauce, 'Lad Na'

Essential Thai Pantry

| | |
| --- | --- |
| | See the ingredients and cookware that every Thai kitchen should have. |

Find Another Thai Recipe

Search By: Name | IngredientsNeed more help? Check out our Thai Recipe Helper

Start typing the name of the recipe you are interested in.