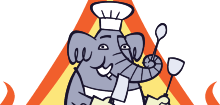 ImportFood.com

ImportFood.com
Chicken in Pandan Leaves, 'Gai Haw Bai Toey'

Buy ingredients for this recipe!

Here's a Thai recipe you thought you had to go to Thailand to enjoy, not seen in local restaurants. We show how to fold the leaves, steam and cook the chicken, and the succulent dipping sauce. Another awesome, authentic Thai recipe feature from ImportFood.com. You may be able to get fresh pandan leaves from your local asian market, or order from us if you allow some lead-time to prepare the order because we have them on an infrequent basis.

Ingredients

Ingredients for chicken:
3 cups chicken breast, cut into dice
5 coriander root (or 1 tablespoon coriander seed), washed and chopped
2 tablespoons fresh garlic, peeled
2 tablespoons thin soy sauce
2 teaspoons Thai pepper powder
5 tablespoons oyster sauce
1 tablespoon sesame oil
1 tablespoon whiskey
60 fresh pandan leaves for wrap
oil for frying

Ingredients for sauce:
4 tablespoons water
1/2 cup sugar
6 tablespoons thin soy sauce
2 tablespoons black soy sauce
1/2 teaspoon salt
2 tablespoons toasted sesame seeds

Method

Cut off the root of pandan leaves and clean off the dirt, set aside to dry. In mortar and pestle add coriander root, garlic and Thai pepper powder, pound until becomes fine paste. Put chicken in large mixing bowl, add garlic mixture, soy sauce, oyster sauce, sesame oil and whiskey, mix well then marinade for 2 hours.

Wrap each piece of marinaded chicken with pandan leaf using the video above as a guide. Make sure each piece of chicken is completely covered. Lay each bundle of pandan chicken into the stacked steadmer. Steam the chicken over boiling water for 10 minutes.

While chicken is steaming, make the dipping sauce. In a small sauce pan, add water, sugar, thin soy sauce, black soy sauce and salt. Stir until the sugar dissolves. Set aside to cool. Remove the sauce to serving bowl, top with toasted sesame seeds.

After chicken is steamed, fry chicken in oil on medium heat until cooked through. Serve with sauce and fresh pineapple. Enjoy!

NEW: Amazing Elephant Tom Kha Pouch.

NEW: Amazing Elephant brand "Tom Kha" Soup -- It's All In The Pouch. After years of development and investing in America, we are happy to introduce this ready-to-eat, premium quality, authentic and delicious Tom Kha soup made in small batches using the highest quality ingredients. Amazing Elephant brand puts everything in the pouch and cooks it to perfection.

To heat, simply put the pouch in boiling water for 3 minutes then open and serve alone or over rice. You can also microwave it for 90 seconds. It's all inside, so you don't need to add a thing.

This all-natural, gluten-free, preservative-free soup is precooked in a modern BPA-free pouch that's shelf stable for two years but tastes like it was just made fresh in a Thai grandmother's kitchen. Premium ingredients and sophisticated preparation ensure that this rivals anything a Thai restaurant serves.

More Info About Our Amazing Elephant Tom Kha

Thai Street Vendor Video

All of our videos can be found in our Thai Street Vendor Videos section.

Email This Recipe

Send this recipe to yourself or a friend.

Comments

Anonymous

February 4th, 2014
11:46 AM

Anonymous

November 19th, 2015
2:41 AM

Anonymous

May 30th, 2016
7:45 AM

Add a Comment

Related Recipes

Volcano Chicken, 'Gai Pu Khao'

Thai-Style Noodles Baked in Clay Pot, 'Bamee Gai Op Mor Din'

Thai Cashew Chicken, 'Gai Pad Med Mamuang Himaphan'

Sesame Chicken Kebabs

Essential Thai Pantry

| | |
| --- | --- |
| | See the ingredients and cookware that every Thai kitchen should have. |

Find Another Thai Recipe

Search By: Name | IngredientsNeed more help? Check out our Thai Recipe Helper

Start typing the name of the recipe you are interested in.