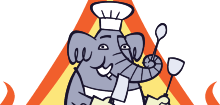 ImportFood.com

ImportFood.com
Cracked Crab Thai Curry, 'Bu Pad Pong Kari'

Buy ingredients for this recipe!

Bu Pad Pong Kari is a simple recipe with a delicious unique flavor that many people in Thailand love so much that it's an addiction. If you like Thai food, and you like crab, you must try it. Just be sure to use good fresh crab, and crack the shells before cooking (as shown in the video at link below). Thai curry powder is the main flavoring, so that must be used.

As with any Thai recipe there are many variations. Here is our version which is fairly simple. Using coconut milk instead of fresh milk is another option.

Ingredients

1 large crab (2.5-3 lbs whole)
1.5 cups Chinese celery cut to 1 inch long pieces (include leaves), or spring onions & cilantro
2 tablespoons rough chopped garlic
1 egg lightly beaten
1 tablespoon roasted chile in oil (prik pao)
1/2 cup fresh milk (or coconut milk)
1/4 teaspoon Thai pepper powder
2 tablespoons oyster sauce
1 tablespoon (or a bit more) Thai curry powder
2-3 tablespoons vegetable oil
1/2 - 3/4 cup water

Method

Wash the crab, remove the shell & internal organs, chop into large pieces, and crack the claws and legs. In a small mixing bowl, combine the milk, beaten egg and chili paste together. Set aside. Heat oil in a frying pan over medium high heat, add garlic saute until fragrant (just a minute or two). Add crab, stir a little bit then add Thai curry powder. Stir well, add water let it cook for 5 minutes. Pour in egg mixture and oyster sauce. Stir quickly until done, about 6-8 minutes (longer depending on how big your crab is). Add greens, stir well. Sprinkle with Thai pepper powder, remove to serving plate. Serve immediately with steamed Thai jasmine rice. (Hint: add a touch of Thai chile oil for great flavor and aroma). Enjoy!

Thai Street Vendor Video

All of our videos can be found in our Thai Street Vendor Videos section.

Email This Recipe

Send this recipe to yourself or a friend.

Comments

malathy tharmaraju

July 12th, 2010
8:51 PM

malathy tharmaraju

January 21st, 2015
9:42 PM

Anonymous

May 10th, 2015
7:49 PM

Anonymous

May 11th, 2015
12:29 PM

Add a Comment

Related Recipes

Thai Pineapple Fried Rice, 'Khao Pad Sopparot'

Thai-Style Toast, 'Khanom Bung Na Goong Roy Nga'

Sun-Dried Beef, 'Neua Dad Deo'

Thai Chicken and Ginger Soup, 'Gai Joo Khing'

Essential Thai Pantry

| | |
| --- | --- |
| | See the ingredients and cookware that every Thai kitchen should have. |

Find Another Thai Recipe

Search By: Name | IngredientsNeed more help? Check out our Thai Recipe Helper

Start typing the name of the recipe you are interested in.