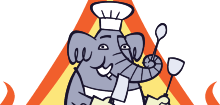 ImportFood.com

ImportFood.com
Drunken Noodles and Chicken with Tofu, 'Gai Pad Kee Mao'

Buy ingredients for this recipe!

Kee mao dishes in Thailand are widely served as bar snacks in much the same way that Spanish bars serve tapas (and serve to make you thirsty, when used for this purpose).

Ingredients

6 ounces of Chantaboon rice noodles
1/4 cup of chopped shrimp
1/2 cup of chopped chicken
1/4 cup of firm tofu, cut into small cubes
1 tablespoon chopped garlic
1 tablespoon chopped shallots
1 tablespoon yellow bean sauce
1 tablespoon white rice vinegar
1 tablespoon fish sauce
4 tablespoons of palm sugar
1 tablespoon lime juice
1 tablespoon ground red chili
1/4 cup bean sprouts
1 tablespoon chopped mixed red and green jalapeno peppers
1 coriander plant, chopped
1 cup fresh Thai basil leaves
2 bulbs of pickled garlic, thinly sliced
3-4 red jalapenos, julienned (garnish)
Young green peppercorn

Method

Soak the noodles in water for about 15 minutes; take about a third of them and cut the ribbons into short pices (about 2" long). The remaining two thirds of the noodles should be plunged into boiling water, and cooked until "toothy" then removed and placed on the serving plate.

If desired the tofu can be marinated in some dark soy to which a couple of sliced chilis are added.

The third of the noodles that have been chopped are fried in hot oil until crispy.

The remaining ingredients, except the pickled garlic, are stir fried in a medium hot wok until cooked through (if you want the sauce thickened add a little rice flour) and then poured over the boiled noodles. Add the green peppercorn near the end of the cooking process, as they don't require a great deal of cooking. The fried noodles and the pickled garlic are then added as a garnish.

Email This Recipe

Send this recipe to yourself or a friend.

Comments

Shaun

September 15th, 2008
2:56 PM

Jim

January 14th, 2010
8:43 PM

clementina Aubrey Khunseng

March 18th, 2010
10:15 AM

Lynn Aubrey

September 12th, 2010
9:08 AM

Add a Comment

Related Recipes

Thai Nine Flavored Salad, 'Thai Salad Dressing'

Thai-Style Fried Noodles, 'Pad Thai'

Thai Crispy Stir-Fried Noodle, 'Mee Krob'

Spicy Thai Chicken with Fresh Thai Basil, 'Gai Pad Grapao'

Essential Thai Pantry

| | |
| --- | --- |
| | See the ingredients and cookware that every Thai kitchen should have. |

Find Another Thai Recipe

Search By: Name | IngredientsNeed more help? Check out our Thai Recipe Helper

Start typing the name of the recipe you are interested in.