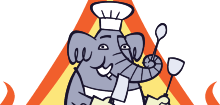 ImportFood.com

ImportFood.com
Thai Chicken and Winter Melon Curry, 'Kaeng Kua Phak Gai'

Buy ingredients for this recipe!

Ingredients

9 tablespoons coconut cream powder
1 can kaeng kua curry paste (4 oz)
3/4 lb chicken
1 teaspoon salt
1 lb winter melon (see below *)
2 teaspoons tamarind concentrate
3 tablespoons palm sugar
3 tablespoons fish sauce

Method

Clean chicken, cut into 1 inch pieces, mix with 1 tsp salt and fry until dry. Peel melon, remove seeds and cut into 1 inch chunks. Mix coconut cream powder with 3 cups warm water, stir well. Put 1 cup coconut cream in frying pan and heat. When oil begins to appear on the surface, add the kaeng kua curry paste, then add the chicken and cook. Spoon into a pot, add the remaining coconut milk and the melon and heat. Separately combine tamarind concentrate with 2 tablespoons warm water, mix well. When the melon is done, taste and season with tamarind juice, palm sugar, and fish sauce. Stir and serve with jasmine rice.

*Winter melon is also known as Christmas melon, wax gourd, or ash gourd. The pumpkin-like vine has thick, furrowed stems. The fruits range from oblong to cylindrical and reach 16 inches in length. The mature fruit has a thick layer of white wax (ton kwa). Other names: Tougan (Japanese); doongua, cham kwa, tung gwa, mo kwa, fa kwa (Chinese); tankoy, kundol (Filipino); petha, kaddu (Indian). You can see photos and order seeds to grow your own winter melon at this link. You may substitute your favorite local gourd for this dish.

Email This Recipe

Send this recipe to yourself or a friend.

Comments

Add a Comment

Related Recipes

Green Curry with Fresh Chile, Chicken, Eggplant & Kaffir Lime

Thai Chicken with Hot-Sour-Salty-Sweet Sauce

Spicy Thai Chicken with Fresh Thai Basil, 'Gai Pad Grapao'

Southern Style BBQ Chicken, 'Gai Kor Rae'

Essential Thai Pantry

| | |
| --- | --- |
| | See the ingredients and cookware that every Thai kitchen should have. |

Find Another Thai Recipe

Search By: Name | IngredientsNeed more help? Check out our Thai Recipe Helper

Start typing the name of the recipe you are interested in.