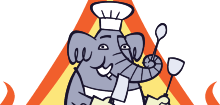 ImportFood.com

ImportFood.com
Thai Sweet Sticky Rice with Mango, 'Khao Neeo Mamuang'

Buy ingredients for this recipe!

A very sweet treat you'll absolutely love. Be sure to start with a mango that's nice and ripe, with a slight give to the touch. We like the Mexican mango sold throughout the year in the United States. These are tasty and sweet but not as fragrant as most Thai mangoes. The mango flesh should be bright and yellow, and we have detailed photos below showing you how to properly peel and slice them using a proper Thai mango peeler.

Ingredients

2 cups sticky rice
2 cups coconut cream
1 cup sugar
1/2 teaspoon salt
3 ripe mangoes, cut into thick slices (see below)
1 tablespoon toasted sesame seeds (optional)
1 tablespoon tapioca starch
1 tablespoon sugar
1/4 teaspoon salt

Method

Prepare the 2 cups sticky rice as per our detailed instructions. While sticky rice is steaming, mix together 1.5 cups coconut cream, 1 cup sugar, 1/2 teaspoon salt and bring to a boil. Set aside to cool (for a more fancy preparation, you can strain the coconut milk in a cheesecloth before setting to cool, but this is not necessary). Immediately after sticky rice is cooked, and still hot, put it into the coconut sauce and stir together well. Cover for 1 hour (or less is ok) and let cool.

Topping
Mix 1/2 cup coconut cream with 1/4 teaspoon salt, 1 tablespoon sugar and the tapioca starch. Bring to a boil.

Put the sticky rice and mangoes on a serving dish. Pour the topping sauce over the sticky rice and sprinkle with the toasted sesame seeds. Enjoy!

Visit this link to see Bangkok's most famous sticky rice w/mango vendor.

We also have a recipe for black sticky rice and sweet coconut dessert.

Thai Street Vendor Video

All of our videos can be found in our Thai Street Vendor Videos section.

Email This Recipe

Send this recipe to yourself or a friend.

Comments

maricarmen

December 10th, 2010
1:32 PM

Meadow L Young

November 8th, 2011
1:43 PM

Anonymous

December 13th, 2011
1:47 PM

Anonymous

March 29th, 2013
9:20 PM

KenG

April 9th, 2013
6:01 PM

lauralee

June 8th, 2013
8:03 PM

Karen M

August 5th, 2013
8:07 PM

ginger

April 2nd, 2015
1:25 PM

Add a Comment

Related Recipes

Thai Black Sticky Rice & Sweet Coconut Milk, 'Khao Neeo Dahm'

Durian Flavored Sticky Rice in Coconut Milk, 'Khao Neeo Durian'

Mixed Sticky Rice & Coconut Milk with Fruit, 'Khao Neeo Dahm Polamai'

Fried Thai Peanut Cookie

Essential Thai Pantry

| | |
| --- | --- |
| | See the ingredients and cookware that every Thai kitchen should have. |

Find Another Thai Recipe

Search By: Name | IngredientsNeed more help? Check out our Thai Recipe Helper

Start typing the name of the recipe you are interested in.