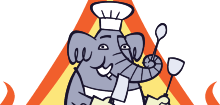 ImportFood.com

ImportFood.com
Chicken Stuffed Sticky Rice, 'Khao Niao Sod Sai Kai'

Buy ingredients for this recipe!

A fancy dish that is sure to please everyone who tries it!

Ingredients

14 oz chicken breast, finely chopped
1 egg
1 tablespoon tapioca flour
2 tablespoons ground pepper
4 spring onions and corianders, finely sliced
10 oz cooked sticky rice
fish sauce, sugar, leaf lettuce, tomatoes, fresh Thai chile pepper, and pineapple for serving.

Method

In a large mixing bowl, mix together the chicken, egg, tapioca flour and all the seasoning ingredients with spring onions and corianders except the sticky rice, then form into 1/2 inch balls in diameter.

Surround each ball with a layer of sticky rice. Line the steamer layer with lettuce, cabbage or other seasonal green leaves, rub with the cooking oil thoroughly. Place the balls on the leaves, spacing well apart about 1-2 inches to prevent them from sticking to each other. Steam over vigorously boiling water for about 20 minutes until cooked. Remove.

For serving, arrange on a serving plate together with assorted fresh vegetables and a chili sauce. Serve immediately.

Thai Street Vendor Video

All of our videos can be found in our Thai Street Vendor Videos section.

Email This Recipe

Send this recipe to yourself or a friend.

Comments

Diane Lamb-Wanucha

September 14th, 2008
11:03 AM

Anonymous

March 21st, 2011
1:34 PM

Add a Comment

Related Recipes

Thai Chicken with Hot-Sour-Salty-Sweet Sauce

Thai Fried Rice with Chicken

Green Curry with Fresh Chile, Chicken, Eggplant & Kaffir Lime

Spicy Thai Chicken with Fresh Thai Basil, 'Gai Pad Grapao'

Essential Thai Pantry

| | |
| --- | --- |
| | See the ingredients and cookware that every Thai kitchen should have. |

Find Another Thai Recipe

Search By: Name | IngredientsNeed more help? Check out our Thai Recipe Helper

Start typing the name of the recipe you are interested in.