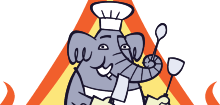 ImportFood.com

ImportFood.com
Thai Masaman Chicken, 'Gaeng Masaman Gai'

Buy ingredients for this recipe!

The "massaman" indicates that the recipe is of a "musselman" or islamic origin. It probably owes something to early Portuguese influences, and is similar in concept to the "sour and hot" Goan style vindaloo dishes. By Thai standards this is usually a fairly mild curry, so we find it's a good starting point.

In a July 2011 CNN story, Massaman curry was declared "World's Most Delicious Food" (see below).

You might also be interested in our instant massaman which is easy to make and tastes very good.

Ingredients

about 1 pound chicken (you can also use pork or beef), cut into the usual "bite sized pieces"
3 cups of coconut milk.
2 tablespoons roasted peanuts (unsalted)
5 peeled, but whole, small onions.
5 small potatoes, peeled and partly boiled.
3 bay leaves,
5 cardamom seeds
a small piece of roasted cinnamon stick
2 tablespoons palm sugar
1 tablespoon tamarind concentrate mixed with 2.5 tablespoons water
3 tablespoon lime juice
2-3 tablespoons Masaman curry paste.
about 1-3 teaspoons crushed garlic. (optional)

Method

Peel potatoes, boil them partly in a cooking pot for 10-15 minutes, and cut in 1 to 2-inch pieces.

Allow the coconut milk to separate and you will have about two cups of thick "cream" and one cup of thin "milk". In a small saucepan bring the milk to a simmer and add the chicken or pork. If you are using beef you will need another two cups of milk. Simmer the meat until it begins to become tender (beef takes longer, hence the additional milk).

Put the coconut cream in a wok and bring to a boil, add the massaman paste and "stir fry" until the flavor is brought out and maximized. Add the remaining cream and curry paste to the meat.

Add the peanuts. Taste and adjust the flavor until it is (just) sweet (by adding sugar), sour and salty (by adding tamarind juice, lime juice and fish sauce).

Add the remaining ingredients and cook until cooked.

Note : the potatoes used in Thailand for this dish are a yellow fleshed sweet potato of the type sometimes called a yam in the US. Western style potatoes can be used, but absorb less of the sauce and flavor. The potatoes act as a "moderator" to reduce the heat of the curry, and should not be left out.

You can either serve it on a bed of Thai jasmine rice, or double the amount of potato and serve it alone.

Accompany it with a dressed green salad and a bowl of "ajad" (pickled cucumbers--see recipe below). The traditional Thai table also offers chilis in fish sauce (Phrik nam pla--see below) chilis in vinegar (prik dong, see below), and ground chilli (not to be confused with the powedered chilli mix sold as chilli powder in the US), sugar, and often MSG. You can if you wish add about a teaspoon of MSG to the above recipe to bring out the flavors, but we don't think it is necesary.

Ajad

4 tablespoons white rice vinegar
1 teaspoon sugar
2-3 tablespoons cucumber, very coarsely chopped, or sliced
2 shallots (purple onions) chopped
3-4 Thai chile peppers, thinly sliced

Combine the ingredients, and leave to stand overnight.

Nam pla prik

Put two thirds of a cup of Thai chile peppers or jalapeno peppers in a 1 pint jar, and fill with fish sauce. Seal and keep for a week before using.

Prik dong

Put two thirds of a cup of sliced Thai chile peppers in a 1 pint jar, and fill with white rice vinegar. We also offer a ready-made prik dong.

Breaking News!

Thai massaman curry got "First Prize" in CNN's list of the world's 50 most delicious foods. Thailand is "a land where the world's most delicious food is sold on nearly every street corner."

Masaman Kit. A Great Value.

One of our most popular recipes is "Masaman Gai" which has been featured in our street vendor video series.

Here we've put together a kit of all the ingredients to make dozens of servings of masaman, for such a great price that your cost will end up a fraction of what a restaurant would charge.

Thai Street Vendor Video

All of our videos can be found in our Thai Street Vendor Videos section.

Email This Recipe

Send this recipe to yourself or a friend.

Comments

Andy Taylor

September 8th, 2008
8:28 AM

Rhiannon

June 5th, 2009
6:27 AM

Kathi Taylor

August 19th, 2009
8:28 PM

Al

June 21st, 2010
6:59 PM

Stella

August 20th, 2011
12:54 PM

charles burd

March 29th, 2012
5:18 PM

Anonymous

March 29th, 2012
5:25 PM

Neil

January 29th, 2014
1:12 AM

Add a Comment

Related Recipes

Chicken Satay, 'Satay Gai'

Thai-Style Peanut Sauce, 'Nam Jim Satay'

Thai Pork Satay, 'Moo Satay'

Thai Chicken with Hot-Sour-Salty-Sweet Sauce

Essential Thai Pantry

| | |
| --- | --- |
| | See the ingredients and cookware that every Thai kitchen should have. |

Find Another Thai Recipe

Search By: Name | IngredientsNeed more help? Check out our Thai Recipe Helper

Start typing the name of the recipe you are interested in.