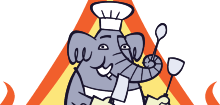 ImportFood.com

ImportFood.com
Miang Kham

Buy ingredients for this recipe!

Miang Kham apparently started out as a peasant food, just bits of various ingredients wrapped in the distinctive betel leaf, then topped with a sweet and salty sauce. Today you can see independent people throughout Thailand offering these ingredients in a little kit that you take home.

Miang Kham requires a great deal of preparation time, but it's well worth it--especially if you've eaten a tasty miang kham before and have a craving. There's nothing like it. The blend of coconut, ginger, fresh bitter leaves, peanut, lime and chile is a fantastic flavor and one that goes very well with the American palate. While the easiest way to enjoy miang kham is to have it at your local Thai restaurant, it takes so much effort to make that many restaurants are not likely to offer it. ImportFood.com is a recommended supplier in Saveur Magazine.

Ingredients: Filling

3/4 cup grated coconut (this is often available in the baking section of most supermarkets)
2 small limes, unpeeled (try to get limes with thin skin), cut into small cubes
6 tablespoons shallots, peeled and cut into small cubes
6 tablespoons roasted peanuts
6 tablespoons small dried shrimps
4-5 fresh Thai chile peppers, cut into small slivers
4 oz fresh ginger, peeled and cut into small cubes

Ingredients: Sauce

1 tablespoon shrimp paste, roasted until fragrant
2 oz fresh galangal, cut into slivers and roasted until fragrant (see note below)
1/4 cup grated coconut, roasted in a low-heat oven until lightly brown
4 oz small dried shrimps
2 oz shallots, peeled and coarsely cut
1.5 teaspoons fresh ginger, sliced
8 oz palm sugar (broken into small chunks)
2 tablespoons cane sugar
salt for seasoning

Method: Sauce

In a mortar and pestle, pound together the shallots and galangal until fine (note about galangal: it's ok to use dried galangal as long as it's placed in a dish of lukewarm water for a few minutes to reconstitute). Add roasted shrimp paste, ginger, coconut and dried shrimp, and continue pounding until smooth. Remove the mixture and place in a pot with 1.5 cups water. Bring to a boil over medium heat, add palm sugar and table sugar, then reduce heat and simmer, wait until reduced to 1 cup or a bit less. Taste, and adjust by adding a bit of salt. Remove from heat and transfer to a small bowl.

Wrapping Leaves (click here to see a photo)
The choice of what leaves to use is up to you. Some use lettuce or spinach leaves due to ready availability, but to get an authentic flavor you should use the fresh cha-phloo leaves offered by ImportFood.com. These leaves are also known in English as Betel Leaves, or Piper Sermentosum. In Vietnamese language, these leaves are labeled as La Lop.

Serving

Roast the coconut in a low-heat oven until lightly brown. Spoon the roasted coconut into a serving plate. In separate small bowls, arrange each filling ingredient listed above. With a fresh wrapping leaf in hand, fold it once across the bottom then sideways to form a pocket. Place about 1 teaspoon roasted coconut in the leaf together with a small amount of each filling to create a bite-sized quantity. Spoon the sauce on top, pop in your mouth and enjoy!

Click here to see a Bangkok sidewalk vendor making miang kham.

Thai Street Vendor Video

All of our videos can be found in our Thai Street Vendor Videos section.

Email This Recipe

Send this recipe to yourself or a friend.

Comments

Anonymous

December 13th, 2008
9:17 PM

judy

February 25th, 2009
10:08 AM

Jennie.

June 3rd, 2009
10:47 PM

IanG

August 4th, 2010
1:28 PM

Elfizz

September 28th, 2011
5:13 AM

Anonymous

October 25th, 2011
10:21 PM

Anonymous

May 16th, 2012
6:55 PM

Carolynn

May 16th, 2012
7:46 PM

ImportFood.com

May 16th, 2012
7:53 PM

Anonymous

May 29th, 2012
9:48 PM

Anonymous

January 11th, 2013
3:00 PM

Linda E.

January 15th, 2013
7:09 PM

Selma

April 9th, 2014
1:34 PM

jorge rodriguez

May 26th, 2014
4:12 PM

Anonymous

February 8th, 2015
5:50 PM

Add a Comment

Related Recipes

Northern Thai Pork Curry, 'Gaeng Hanglay'

Thai Pork Satay, 'Moo Satay'

Thai Shrimp Paste Chile Sauce, 'Nam Prik Kapi'

Gai Koor Kling

Essential Thai Pantry

| | |
| --- | --- |
| | See the ingredients and cookware that every Thai kitchen should have. |

Find Another Thai Recipe

Search By: Name | IngredientsNeed more help? Check out our Thai Recipe Helper

Start typing the name of the recipe you are interested in.