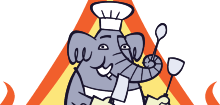 ImportFood.com

ImportFood.com
Son in Law Eggs, 'Khai Look Koei'

Buy ingredients for this recipe!

This is a traditional Thai dish that can be interpreted in a humorous way, as male testicles in Thai are also referred to as eggs.

Ingredients

10 eggs
10-12 whole dried chiles (fried in oil)
cilantro leaves
3 tablespoons sliced shallots
1/3 cup palm sugar
3 tablespoon fish sauce
2 tablespoons Tamarind concentrate mixed with 1/3 cup water
1/4 cup vegetable oil for cooking

Method

Hard-boil the eggs and let sit in cold water, then peel and set aside. Put vegetable oil in wok and add the eggs and fry until the eggs turn golden brown around the outer surface. Remove the eggs from oil. In the same oil, saute shallots until brown and then set aside. Then put palm sugar in the same oil together with the tamarind mixture and fish sauce. Let it simmer and stir constantly until it thickens. Taste should be sour, salty and sweet. Turn off the burner.

Cut the eggs in half and place face-up on on a dish. Spread shallots over the eggs. Pour liquid mixture over the eggs and garnish with cilantro and serve the chiles in a separate dish.

Email This Recipe

Send this recipe to yourself or a friend.

Comments

Tez

February 20th, 2012
11:14 AM

Anonymous

June 6th, 2012
6:01 PM

Add a Comment

Related Recipes

Dressed-up Son in Law Eggs, 'Khai Look Koei Song Krueng'

Southern Style BBQ Chicken, 'Gai Kor Rae'

Roasted Chile Paste in Oil, 'Prik Pao'

Thai Pork Satay, 'Moo Satay'

Essential Thai Pantry

| | |
| --- | --- |
| | See the ingredients and cookware that every Thai kitchen should have. |

Find Another Thai Recipe

Search By: Name | IngredientsNeed more help? Check out our Thai Recipe Helper

Start typing the name of the recipe you are interested in.