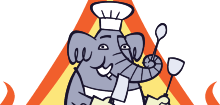 ImportFood.com

ImportFood.com
Thai Spicy Ground Chicken and Toasted Rice, 'Larb Gai'

Buy ingredients for this recipe!

This is one of our all-time favorite Thai dishes, and it is a very common dish served throughout Thailand as well as Laos. It's quick to make and often extremely spicy, but the lime juice and mint leaves make for an exotic and splendid combination.

It can be found on Thai restaurant menus in America as "chicken salad Thai style", which might be the best description for this dish.

Larb is pronounced "lawb" and that means salad. It can be made with beef (lawb nuea) or pork (lawb muu) instead of chicken.

You can make a more fancy lawb by adding beanthread noodles (see our recipe for larb woonsen). The spice mix is fairly simple but we have a ready-made larb spice package-- Click here if you're interested in our instant larb mix.

On a recent trip to Bangkok we enjoyed it at a modern restaurant (shown below served with various sauces and over fish). Rumour has it that the restaurant has a European chef/owner. The recipes are innovative and traditional at the same time.

Ingredients

1 lb ground chicken
2 tablespoons sliced shallot
2 tablespoons finely chopped spring onion
1/4 cup chopped mint leaves
3 tablespoons roasted rice powder (khao koor)
2 tablespoons ground Thai chile (be sure to use real Thai ground chile)
3 tablespoons lime juice
2-3 tablespoons fish sauce

Garnish

Always serve with a good portion of fresh cabbage, and add green beans, parsley, sliced radish, cucumber, & coriander leaves if you like.

Method

You can use ground chicken from the supermarket, or chicken ground in your food processor. Cook the chicken with 2 tablespoons lime juice in a pan over moderate heat. Stir until done. Transfer cooked chicken into medium mixing bowl. Add the remaining ingredients, and mix well. Taste and season as desired. You might want more or less ground chile and/or fish sauce, etc. Serve with fresh vegetables (as shown) and warm, freshly-steamed sticky rice (or if you prefer you can use Thai jasmine rice). Note: if you like chicken giblets, cut them up into small pieces and cook in boiling water. Drain then add to cooked ground chicken before you add the other ingredients.

The usual way to eat this is to get a small ball of sticky rice in the fingers and use it to pick up a little lawb, then eat it with the raw veggies. You can also use a fork and spoon as a lot of Thais do.

Thai Street Vendor Video

All of our videos can be found in our Thai Street Vendor Videos section.

Thai Street Vendor Photos

Email This Recipe

Send this recipe to yourself or a friend.

Comments

Andy Taylor

August 25th, 2008
7:09 PM

Anonymous

October 16th, 2008
9:46 PM

Anonymous

February 10th, 2009
7:25 PM

JoJo Collins

April 20th, 2009
5:42 PM

Anonymous

June 30th, 2009
1:26 PM

Anonymous

September 29th, 2009
1:03 PM

Anonymous

November 11th, 2009
3:17 AM

ImportFood.com

November 12th, 2009
12:00 PM

ed long

February 3rd, 2010
5:15 PM

megan bomgaars

February 16th, 2010
5:53 PM

Anonymous

March 18th, 2010
1:45 AM

Mercy

March 18th, 2010
9:59 PM

Holly B.

April 25th, 2010
10:30 PM

Anonymous

July 6th, 2010
2:35 PM

Ronald Stepp

December 22nd, 2010
3:32 PM

chris

March 22nd, 2011
9:14 AM

Anonymous

June 5th, 2011
10:01 PM

Stan Perkins

July 2nd, 2011
9:48 PM

Madison_australia

November 24th, 2011
10:48 PM

Anonymous

December 18th, 2011
7:53 PM

Sue

March 9th, 2012
2:25 AM

Tonya

May 22nd, 2012
7:44 PM

Rosie

June 20th, 2012
8:33 AM

Mary Ann

July 21st, 2012
5:24 PM

Maria

September 20th, 2012
12:16 AM

Jane

January 24th, 2013
3:10 PM

donna

April 3rd, 2013
8:18 PM

Dave Amorde

June 4th, 2013
7:05 PM

Anonymous

January 16th, 2014
12:42 PM

Mr Pepper

August 13th, 2014
3:46 PM

Dave Mac

November 26th, 2014
3:22 AM

Anonymous

January 5th, 2015
12:41 PM

Bobbi

May 3rd, 2015
1:19 PM

Misha

June 20th, 2015
6:27 PM

phala phin

October 24th, 2015
11:01 PM

Somsiri G

March 25th, 2016
2:16 PM

Add a Comment

Related Recipes

'Beef Larb'

Larb Woonsen in Spring Roll Wrapper

Larb with Glass Noodle & Minced Pork, 'Larb Woonsen Moo Sap'

Grilled Meat Dipping Sauce, 'Nam Jim Jeaw'

Essential Thai Pantry

| | |
| --- | --- |
| | See the ingredients and cookware that every Thai kitchen should have. |

Find Another Thai Recipe

Search By: Name | IngredientsNeed more help? Check out our Thai Recipe Helper

Start typing the name of the recipe you are interested in.