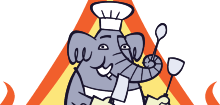 ImportFood.com

ImportFood.com
Squid Pad Ki Mao

Buy ingredients for this recipe!

Kee Mao is a popular dish served throughout Thailand and it should be served with a high level of chile heat. Use plenty of fresh Thai chile peppers.

Ingredients

1 whole head of garlic cloves, chopped
10-12 fresh Thai chile peppers
3 tablespoons vegetable oil
2 cups fresh squid, use tubes cut into bite-size rings
4 tablespoons fish sauce
3 teaspoons sugar
8-10 kaffir lime leaves
1/4 cup fresh Thai basil leaves

Method

Coarsely pound the Thai chile and garlic in a mortar and pestle to form a coarse paste. Set aside in a small bowl. In a wok or skillet, heat the oil on medium heat. Add chile paste mixture and stir-fry until the garlic begins to brown (at this stage the chile heat will hit your nose also). Stir in the squid, and cook until done (be careful not to overcook the squid, if you overcook it the squid will lose it's liquid content and become rubbery). Season it with fish sauce and sugar, using more or less as you prefer. Let the chile heat lead the flavor, followed by the salty flavor of fish sauce.

Add lime leaves and basil, and stir-fry another few minutes. Remove from heat, transfer to dish, and serve with fresh-steamed jasmine rice.

Thai Street Vendor Video

All of our videos can be found in our Thai Street Vendor Videos section.

Email This Recipe

Send this recipe to yourself or a friend.

Comments

Jim Durand

September 22nd, 2008
5:18 PM

phutsa hungsakun

September 23rd, 2009
12:51 AM

James Elkins

October 7th, 2009
7:55 PM

Anonymous

August 9th, 2012
8:51 AM

Freddy from sweden

November 23rd, 2012
4:37 PM

Add a Comment

Related Recipes

Curried Squid, 'Plamuk Pat Phet'

Stir-Fried Brussels Sprouts with Garlic and Chile

Thai Chicken with Hot-Sour-Salty-Sweet Sauce

Green Curry with Fresh Chile, Chicken, Eggplant & Kaffir Lime

Essential Thai Pantry

| | |
| --- | --- |
| | See the ingredients and cookware that every Thai kitchen should have. |

Find Another Thai Recipe

Search By: Name | IngredientsNeed more help? Check out our Thai Recipe Helper

Start typing the name of the recipe you are interested in.