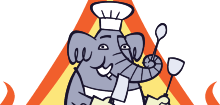 ImportFood.com

ImportFood.com
Stuffed Chicken Wings, 'Peek Gai Yat Sai Goong'

Buy ingredients for this recipe!

Can be eaten as a starter or as a snack on their own. They are also served as a side dish with a larger Thai dinner.

Ingredients

Marinade

1 teaspoon fish sauce
quarter cup lemongrass, very finely sliced
2 tablespoons of minced garlic
1 teaspoon Thai pepper powder
1/4 cup chopped coriander/cilantro plant

Stuffing

drained sweet chili sauce (see method)
drained picked ginger (see method)
1 cup shrimp, pureed or finely chopped
1 tablespoon Thai chile peppers, finely chopped
1 tablespoon chili paste in oil
1 tablespoon red curry paste

12 chicken wings

Method

Chop the chicken wings in half.

Combine the marinade ingredients and marinade the wings overnight.

Now you must seperate the meat from the bones by gripping one end of each piece and jerking the meat and skin from the other end back to your hold (alternatively you can insert the stuffing using a cake icing bag).

Drain about one tablespoon of the ginger from a bottle of pickled ginger. Similarly drain a tablespoon of the chili/garlic mixture for a bottle of sweet chili sauce.

Combine all the ingredients of the stuffing to form a fine paste, making sure that the ingredients are thoroughly incorporated to avoid "hot spots" in the mixture. and then stuff the wing portions with it.

The mini drumsticks can now be barbequed or deep fried until golden brown.

Serve with picked ginger and sweet chili sauce.

Footnote: if you choose to make some wings hotter than others, then you can dip the hot ones in a little red food coloring diluted in water to turn them red... as a warning to the unwary!

Email This Recipe

Send this recipe to yourself or a friend.

Comments

Add a Comment

Related Recipes

Thai Curry Without Tears, 'Kaeng Sai Mai Rong Hai'

Thai Chicken with Hot-Sour-Salty-Sweet Sauce

Green Curry with Fresh Chile, Chicken, Eggplant & Kaffir Lime

Spicy Thai Chicken with Fresh Thai Basil, 'Gai Pad Grapao'

Essential Thai Pantry

| | |
| --- | --- |
| | See the ingredients and cookware that every Thai kitchen should have. |

Find Another Thai Recipe

Search By: Name | IngredientsNeed more help? Check out our Thai Recipe Helper

Start typing the name of the recipe you are interested in.