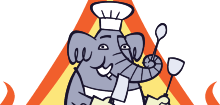 ImportFood.com

ImportFood.com
Thai Tamarind Sauce

Buy ingredients for this recipe!

The tamarind sauce that's prepared as part of this recipe is delicious and can be used for all kinds of dishes, we especially like it with our recipe for duck-fried rice.

Ingredients

1 cup sugar
1 cup dry red wine
1 4-ounce sugar-coated hot tamarind candy
1/4 onion, thinly sliced
2 thin slices peeled fresh ginger
2 garlic cloves, peeled, smashed
1 1/2 cups chicken broth
1 cup water

Method

Place sugar, red wine, tamarind candy, onion, ginger, and garlic in heavy large saucepan. Bring to boil over medium-high heat, stirring until sugar dissolves and tamarind candy melts. Remove any tamarind seeds. Boil mixture until syrupy, stirring frequently, about 8 minutes. Add chicken broth and 1 cup water; simmer over medium-low heat until thick and syrupy and reduced to 1 1/2 cups, stirring often, about 1 hour. Strain. (can be made one week ahead, cover and refrigerate).

Email This Recipe

Send this recipe to yourself or a friend.

Comments

~Annie~

January 7th, 2013
9:30 AM

Anto

November 11th, 2013
2:39 PM

Elizabeth McGlone

April 1st, 2015
11:13 PM

Anonymous

January 15th, 2016
11:20 PM

Add a Comment

Related Recipes

Duck-Fried Rice with Tamarind Sauce

Thai Beef Noodles Soup, 'Kuaitiao Neua'

Chicken Satay, 'Satay Gai'

Thai-Style Pork with Peanut Sauce, 'Phraram Long Song'

Essential Thai Pantry

| | |
| --- | --- |
| | See the ingredients and cookware that every Thai kitchen should have. |

Find Another Thai Recipe

Search By: Name | IngredientsNeed more help? Check out our Thai Recipe Helper

Start typing the name of the recipe you are interested in.