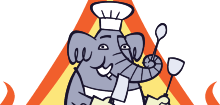 ImportFood.com

ImportFood.com
Thai-Style Butternut Squash Soup

Buy ingredients for this recipe!

We love this recipe, inspired by Bon Appétit Magazine, but it would not be considered a Thai recipe. The connection to Thai food is that it uses red curry paste, and Thai food often incorporates squash. With the great variety of squash available in America, feel free to use any available you can find in the market. We used beautiful, local butternut squash from the Pacific Northwest. A note about the final three ingredients (whipping cream, honey and sour cream): you can leave them out if you want a lower-calorie version of this soup. We found the taste to be excellent before adding them, so if you want to do without them it will still taste good.

Ingredients

Two 2-pound butternut squash, halved lengthwise, seeded
2 teaspoons olive oil
2 tablespoons (1/4 stick) butter
1 cup chopped onion
1 cup chopped carrots
1/2 cup chopped peeled apple
2-3 teaspoons Thai red curry paste
2 14-ounce cans chicken broth
2 bay leaves
3-4 kaffir lime leaves
1/4 cup whipping cream
2 tablespoons honey
6 tablespoons sour cream, stirred to loosen
chopped fresh cilantro as garnish

Method

Preheat oven to 375°F. Brush cut side of squash with oil; place squash, cut side down, on large rimmed baking sheet. Roast until tender, about 1 hour. Cool slightly. Scoop squash out into large bowl. Measure 3 cups squash (reserve any remaining squash for another use).

Melt butter in large pot over medium-high heat. Add onion, carrots, and apple; sauté 5 minutes. Add curry paste; stir 2 minutes. Add chicken broth, bay leaves, lime leaves, and 3 cups squash. Bring to boil; reduce heat to medium-low and simmer uncovered 1 hour. Discard bay leaves. Working in batches, puree soup in blender until smooth. Return to same pot. Stir in cream and honey. Season with salt and pepper. Rewarm over medium-high heat.

Divide soup among bowls. Drizzle with sour cream; sprinkle with cilantro.

Email This Recipe

Send this recipe to yourself or a friend.

Comments

Anonymous

June 18th, 2014
1:35 AM

Add a Comment

Related Recipes

Thai Red Curry Squash Soup

Panko Shrimpcakes with Chile-Lime Sauce

Cardamom Sour-Cream Waffles

Golden Thai Pastry Cups, 'Kratong Tong'

Essential Thai Pantry

| | |
| --- | --- |
| | See the ingredients and cookware that every Thai kitchen should have. |

Find Another Thai Recipe

Search By: Name | IngredientsNeed more help? Check out our Thai Recipe Helper

Start typing the name of the recipe you are interested in.