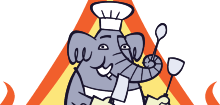 ImportFood.com

ImportFood.com
Crying Tiger Beef, 'Seua Rong Hai'

Buy ingredients for this recipe!

We love the flavor of flank steak, oddly one of the least expensive cuts. On a 900 lb black angus steer, you'll be lucky to get just two decent flank steaks, yet you can find this rare cut in good butcher shops for a price lower than more common steaks. Some people say flank is tougher, thus the lower price. We think flank offers the most delicious flavor, and it's a perfect match for spicy Thai food.

Flank is the perfect choice for the Tao Burner. We had fun cooking two flanks over just a dozen hot briquets.

To get the best flavor, cook your meat over charcoal. Although we like flank steak best, there are other cuts that work great such as those with a thick ring of fat. As the fat drips onto your charcoal, you'll hear pops, and see fire rising up (this where the name crying tiger comes from).

Ingredients

Beef & Marinade

1 flank steak (usually weighs about 1 lb or a bit more)
2 tablespoons of thin soy sauce

Dipping Sauce

1/2 teaspoon corriander seeds
4 cloves garlic
15 fresh Thai chiles
5 tablespoons lime juice
5-7 tablespoons fish sauce
1-2 tablespoons sugar

Method

Coat your steak in the thin soy sauce and let sit at room temperature for 1 hour. Some chefs like to add a bit of fish sauce to this, but we like to use just soy sauce. Barbeque your steak over charcoal.

To make the crying tiger dipping sauce, first pound the corriander seeds in a mortar and pestle until it becomes powder. Add garlic and chilli pound until roughly smooth then stir in lime juice, fish sauce and sugar. Stir until blend. Adjust the taste to your flavor. Serve this dipping sauce on the side with fresh cucumber, green beans etc and sticky rice.

Thai Street Vendor Photos

Email This Recipe

Send this recipe to yourself or a friend.

Comments

Khun Tom

June 3rd, 2014
11:13 PM

Add a Comment

Related Recipes

Thai Beef Salad, 'Yum Nuea'

Waterfall Beef, 'Neua Yang Nam Tok'

'Beef Larb'

Thai Beef Flambe, 'Neua Pad Kimao'

Essential Thai Pantry

| | |
| --- | --- |
| | See the ingredients and cookware that every Thai kitchen should have. |

Find Another Thai Recipe

Search By: Name | IngredientsNeed more help? Check out our Thai Recipe Helper

Start typing the name of the recipe you are interested in.