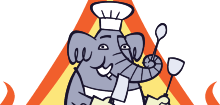 ImportFood.com

ImportFood.com
Thai Fish Custard, 'Hor Mok'

Buy ingredients for this recipe!

Hor mok is an elegant recipe full of rich flavors that represent all of what we love about Thai food. This heavenly combination of fish, red curry paste, kaffir lime leaves, sugar and coconut cream is one of our all time favorites.

See the video below, filmed in Thailand, for a purely authentic version. Also see our feature story showing a street vendor prepare hor mok with horseshoe crab.

To make it in an American kitchen, some simple modifications yield the same fantastic result. We like to use green bell peppers as the "cups", and we like to use either cod, salmon, or tilapia for the fish. Feel free to experiment with fish of your choice. Always steam hor mok, the stacked steamer works perfectly.

Hor Mok may be hard to find in your local Thai restaurant, but if it's on the menu that's a sign that the restaurant is not only good but also authentic. It might be spelled in different ways on English/Thai menus, such as "haw mukh" or "haw mok".

Ingredients (as we made it, adjust to your own preference)

5 or 6 bell peppers (red and green), cut in half and made into bowls as shown
1 cup of salmon, cut into small bite sized chunks
1 cup of tilapia, cut into small bite sized chunks
1 tablespoon Hand Brand red curry paste
3/4 cup coconut cream
2 tablespoons fish sauce
1 1/2 tablespoons sugar
1 egg
3-5 fresh kaffir lime leaves, finely sliced
2 cups sliced cabbage (we like savoy variety)
1 cup fresh Thai basil leaves (less if you prefer)
Red bell pepper (or red chile peppers) sliced for garnish

Method

Put the salmon and tilapia into separate bowls. Lightly beat the egg, then separate equally into two different bowls. Prepare your cabbage in advance but putting it in a microwave oven with 1/2 cup of water, cook for 3 minutes, then let sit to cool. Drain and squeeze the water out of the cabbage. Set aside.

In a medium sized mixing bowl, add tilapia, followed by 1/2 tablespoon of red curry paste, followed by half of the coconut cream. Mix well, and gently, until blended together. It's best to add the coconut cream bit-by-bit. Add 1/2 of an egg, 1 tablespoon fish sauce, half of the sugar, and mix well (until it thickens up nicely).

Repeat the above steps for the salmon.

Line the bell peppers--some with fresh basil, others with cabbage--then put the fish mixtures into the bowls separately. Top with finely sliced kaffir lime leaves, sliced bell peppers, and a few drops of coconut cream.

Place the filled bell peppers into a steamer, and steam for about 20 minutes (until the fish is cooked and the sauce has set into a custard-like consistency).

To serve
Garnish each bowl with a teaspoon or two of coconut cream, and a slivered fresh Thai chile pepper (optional). This is very tasty. Enjoy!

Thai Street Vendor Video

All of our videos can be found in our Thai Street Vendor Videos section.

Thai Street Vendor Photos

Email This Recipe

Send this recipe to yourself or a friend.

Comments

Bobbi

September 23rd, 2011
6:56 PM

Cassi

June 13th, 2014
6:36 PM

Cassi

June 14th, 2014
6:06 PM

Cassi

June 14th, 2014
7:01 PM

Add a Comment

Related Recipes

Panang Oak Gai

Curried Squid, 'Plamuk Pat Phet'

Yum Khao Tod

Green Curry with Fresh Chile, Chicken, Eggplant & Kaffir Lime

Essential Thai Pantry

| | |
| --- | --- |
| | See the ingredients and cookware that every Thai kitchen should have. |

Find Another Thai Recipe

Search By: Name | IngredientsNeed more help? Check out our Thai Recipe Helper

Start typing the name of the recipe you are interested in.