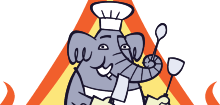 ImportFood.com

ImportFood.com
Thai Green Papaya Salad, 'Som Tum'

Buy ingredients for this recipe!

Green papaya salad is loved throughout SE Asia in various forms, and we are pleased to present this detailed recipe so you can bring it to your own kitchen. Somtum is a classic Thai dish, commonly associated with the NE (Isaan) area but served all over Thailand, for example here at a sidewalk shop found on our walking tour of good eats in Saochingcha area.

Also see our new feature How To Make Different Versions of Som Tum.

Somtum is typically prepared three different ways. It can be "Somtum Thai" which has peanuts mixed in, "Somtum Bu" which has small pickled crabs pounded in, or "Somtum Lao sai pla ra" which includes the juice of pickled mudfish.

We also offer a very simple pre-made som tum sauce that you can add to the papaya, for quick preparation. Also see our newest Som Tum product: Som Tum Powder.

See our new feature story on a modern take on Som Tum: Jungle Salad.

Ingredients

2 cups shredded fresh green papaya, use a Pro-Slice Thai peeler or Miracle Knife.
3 medium roma tomatoes, or use a few more if you can find cherry tomatoes
A handful of fresh string beans cut into 1 inch pieces
2 tablespoons dried shrimp
4-6 fresh Thai chiles, remove stems
3-4 cloves garlic
2 tablespoons fish sauce
2 tablespoons palm sugar
2 tablespoons fresh lime juice
2 tablespoons juice of pickled mud fish (optional)

Method

Peel fresh green papaya, rinse the white milk off, pat dry, then shred the whole papaya. Sprinkle with a bit of salt then rinse it off and drain. Keep 2 cups shredded papaya out, and put the rest in a sealed container for later use. Slice tomatoes thinly. In a clay Lao-style mortar & pestle, coarsely pound the fresh chiles (whole) and garlic. Add string beans and sliced tomato, and pound it lightly (do not over-crush). Add dried shrimp, fish sauce, palm sugar and lime juice. Add these items spoon-by-spoon, and taste as you go. If you want to add peanuts, add now and lightly pound (optional). If you want to add pickled mud fish (pla ra), add two tablespoons of juice (optional). Add shredded papaya and pound together until mixed well. Serve on a dish with fresh cabbage and string beans on the side. Enjoy!

NEW: Som Tum Sauces.

Here are two authentic sauces from Mae Pranom to make a great tasting Som Tum. These take out all of the guesswork, as you just need to add this to your green papaya for an instant som tum.

The "Fermented Fish" version (green label) is, according to the Thai staff at ImportFood.com, only for Thai people (non-Thai will not like it!). We believe there must be some non-Thai people who can enjoy it? It is very smelly, and the taste is "Super Real". This is as authentic Thai as it gets, and no doubt a true flavor that your local restaurant will not likely serve.

The fermented fish used in this sauce is called "pla ra", a northeastern relish made by fermenting fish with salt and roasted rice.

A lot of people in Thailand do not like pla ra in their somtum, so Mae Pranom has a non-stinky version as well. The blue label version more mainstream som tum salad dressing that is equally authentic and delicious.

Packed in a beautiful glass bottle with attractive label, Mae Pranom is a very large producer employing the highest quality standard.

Ingredients / Green Label: fermented fish 50%, fish sauce 30%, sugar 10%, shrimp paste 5%, salt 5%. No artificial color, no msg, no preservatives. Product of Thailand.

Ingredients / Blue Label: fish sauce 60%, sugar 20%, tamarind 10%, distilled vinegar 5%, lime powder 5%. No artificial color, no msg, no preservatives. Product of Thailand.

Thai Street Vendor Video

All of our videos can be found in our Thai Street Vendor Videos section.

Email This Recipe

Send this recipe to yourself or a friend.

Comments

MSG H. G. Robby Robinson

March 17th, 2010
6:39 PM

Anonymous

April 23rd, 2010
3:44 AM

Anonymous

April 28th, 2010
2:47 PM

Jaynaak

May 12th, 2010
3:57 PM

micurl

August 3rd, 2010
4:32 AM

Matt Parkinson

October 12th, 2010
12:24 PM

Anonymous

April 24th, 2012
12:41 PM

Ann B.

May 8th, 2012
12:10 PM

Pleco

May 6th, 2014
1:21 PM

Add a Comment

Related Recipes

Som Tum

Rice with Salty Chili Sauce & Seafood, 'Khao Kruk Prik Klua'

Thai Shrimp Paste Chile Sauce, 'Nam Prik Kapi'

Spicy Thai Chicken with Fresh Thai Basil, 'Gai Pad Grapao'

Essential Thai Pantry

| | |
| --- | --- |
| | See the ingredients and cookware that every Thai kitchen should have. |

Find Another Thai Recipe

Search By: Name | IngredientsNeed more help? Check out our Thai Recipe Helper

Start typing the name of the recipe you are interested in.