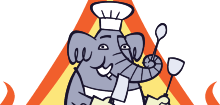 ImportFood.com

ImportFood.com
Thai Vegetarian Noodles

Buy ingredients for this recipe!

Ingredients

10 ounce chantaboon rice stick noodles
1/4 cup vegetable oil
2 teaspoon minced garlic
1 cup broccoli florets
3/4 cup sliced onions
2/3 cup sliced snow peas
1/2 cup diced celery
1/4 cup julienned carrots
1/4 cup diced red bell pepper
1/4 cup diced mushrooms
3 tablespoons crushed unsalted peanuts
2 tablespoons fish sauce
2 tablespoons Thai chile paste with garlic and sweet basil
1 tablespoons white rice vinegar
2 teaspoons thin soy sauce
1 teaspoon Thai pepper powder
2 tablespoon chopped mint leaves
1 sprig mint
1 cup fresh bean sprouts
2 tablespoon thinly sliced leeks

Method

Soak noodles in 8 cups cold water for 45 minutes. Drain in a colander and set aside. Heat vegetable oil in a large skillet over high heat. Add garlic and saute, stirring, until lightly browned, about 1 minute. Add broccoli, onions, snow peas, celery, carrots, bell pepper & mushrooms, and stirfry for 1 minute. Add peanuts, fish sauce, chile paste, vinegar, soy sauce, pepper powder & noodles, and cook, stirring continuously, until heated through and well mixed, about 2 minutes. Stir in chopped mint. Transfer to a platter, sprinkle with bean sprout & leeks and garnish with mint sprig.

Email This Recipe

Send this recipe to yourself or a friend.

Comments

Anonymous

January 2nd, 2016
3:22 PM

Add a Comment

Related Recipes

Baked Rice in Earthenware Pot, 'Khao Op Mor Din'

Stir-Fried Brussels Sprouts with Garlic and Chile

Thai Beef Noodles Soup, 'Kuaitiao Neua'

Thai Fried Rice with Chicken

Essential Thai Pantry

| | |
| --- | --- |
| | See the ingredients and cookware that every Thai kitchen should have. |

Find Another Thai Recipe

Search By: Name | IngredientsNeed more help? Check out our Thai Recipe Helper

Start typing the name of the recipe you are interested in.