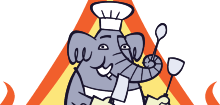 ImportFood.com

ImportFood.com
Thai Rice Soup with Shrimp, 'Khao Tom Goong'

Buy ingredients for this recipe!

Khao tom is a staple in Thailand, being widely eaten as a breakfast dish as well as an accompaniment to lunch and dinner. It can be cooked plain (without the shrimp), or as here with shrimp. It can also be made by simple substitution with chicken, pork, or any combination of seafood that you have to hand. It can be made with cooked left over chicken/shrimp etc, or as here with fresh ingredients. It is however almost always made from pre-cooked rice from a day before (though not always left-overs: the cook will often simply ladle enough rice from the electric rice pot to make the soup shortly before serving). Made with chicken it is a popular meal for recovering patients who still feel a little queasy.

Ingredients

2 cups water
1 cup cooked Thai jasmine rice
1 cup thinly sliced Chinese celery (including the leaves), or spring onion
half teaspoon preserved cabbage
2 tablespoons fish sauce
1 tablespoon Maggi seasoning
1 tablespoon garlic, thinly sliced
Shiitake mushrooms, sliced (optional)
1 teaspoon Thai pepper powder
fried garlic to taste, and a half teaspoon of salted radish always adds a nice taste

You also need 4 large (8 to the pound) shrimp, or half a pound of smaller ones, shelled, deveined, and butterflied, or half a pound of other flavor ingredient.

Method

In a very small amount of oil saute the garlic until golden brown and beginning to crisp up. Pour in the water, and bring to the boil. Next add the celery, Maggi sauce, and fish sauce and pepper powder, and stir until it boils again. Now add the rice, preserved cabbage, shiitake, and return to the boil, continuing to simmer, stirring occasionally. Now add the shrimp, and cook until they turn pink.

Transfer to a serving dish, sprinkle fried garlic over each serving, and garnish with chopped coriander/cilantro leaves, we like to add a few thin slices of fresh ginger also (see picture below). It is also popular to serve a small dish of moo yong dried pork on the side with this soup.

NEW: Amazing Elephant Tom Kha Pouch.

NEW: Amazing Elephant brand "Tom Kha" Soup -- It's All In The Pouch. After years of development and investing in America, we are happy to introduce this ready-to-eat, premium quality, authentic and delicious Tom Kha soup made in small batches using the highest quality ingredients. Amazing Elephant brand puts everything in the pouch and cooks it to perfection.

To heat, simply put the pouch in boiling water for 3 minutes then open and serve alone or over rice. You can also microwave it for 90 seconds. It's all inside, so you don't need to add a thing.

This all-natural, gluten-free, preservative-free soup is precooked in a modern BPA-free pouch that's shelf stable for two years but tastes like it was just made fresh in a Thai grandmother's kitchen. Premium ingredients and sophisticated preparation ensure that this rivals anything a Thai restaurant serves.

More Info About Our Amazing Elephant Tom Kha

Email This Recipe

Send this recipe to yourself or a friend.

Comments

Jack

August 22nd, 2009
4:19 PM

Anonymous

January 31st, 2010
11:03 AM

shardulrawat

February 23rd, 2010
7:25 AM

H. G. "Taksin" Robinson

June 29th, 2011
12:06 AM

Fancy

April 6th, 2012
8:10 PM

Add a Comment

Related Recipes

Rice with Salty Chili Sauce & Seafood, 'Khao Kruk Prik Klua'

Dressed-up Son in Law Eggs, 'Khai Look Koei Song Krueng'

Bamboo and Shrimp Soup, 'Kaeng Jeut Nor Mai'

Stuffed Chicken Wings, 'Peek Gai Yat Sai Goong'

Essential Thai Pantry

| | |
| --- | --- |
| | See the ingredients and cookware that every Thai kitchen should have. |

Find Another Thai Recipe

Search By: Name | IngredientsNeed more help? Check out our Thai Recipe Helper

Start typing the name of the recipe you are interested in.