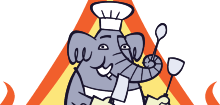 ImportFood.com

ImportFood.com
Thai Sour Fish Soup, 'Kaeng Som Phak Bung Phrik Sod Kab Pla'

Buy ingredients for this recipe!

This is a simple hot and sour soup, made with the fish of your choice. In Thailand the vegetable is generally cabbage, kale, or even broccoli can be used.

Ingredients

2 to 3 tablespoons sour curry paste
1 pound of fish, diced
2 pounds of vegetables (your choice)
10 small tomatoes, skinned, seeded, and diced
3 tablespoons lime juice
3 tablespoons fish sauce
1 tablespoon tamarind concentrate mixed with 3 tablespoons water
3 tablespoons green jalapenos thinly sliced
1 tablespoon sriracha sauce

Method

Wash and dice the fish. Place the fish in a bowl, add the lime juice, fish sauce, tamarind sauce, chili sauce and sour curry paste, and leave to marinade for at least an hour.

Bring two cups of water to a boil in a medium saucepan or wok and add the liquid from the marinading fish, then add the vegetables and boil for about two minutes. Adjust the flavor to taste (it should be a little salty and a little sour, and as hot as you desire it at this stage). Add the tomato and bring back to the boil. Add the remaining ingredients, return to the boil, and stir occasionally until the fish is cooked.

Email This Recipe

Send this recipe to yourself or a friend.

Comments

Add a Comment

Related Recipes

Steamed Fresh Fish and Vegetables Thai-Style with Dipping Sauce

Thai Fish Sour Soup, 'Gaeng Som Pla'

Thai Fish in Chili, 'Pla Rad Prik'

Cotton Fish with Green Mango Salad, 'Pla Dook Foo'

Essential Thai Pantry

| | |
| --- | --- |
| | See the ingredients and cookware that every Thai kitchen should have. |

Find Another Thai Recipe

Search By: Name | IngredientsNeed more help? Check out our Thai Recipe Helper

Start typing the name of the recipe you are interested in.