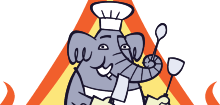 ImportFood.com

ImportFood.com
Thai Sweet & Sour Sauce, 'Nam Jim Priao Wan'

Buy ingredients for this recipe!

This is a simple, Thai-style, sweet and sour sauce. Note that it isn't pink! The sauce is spicy and has complex flavors.

Serve with any grilled meat. We enjoyed it here with chicken, som tum, sticky rice, and hard-boiled eggs.

Ingredients

About 10 fresh Thai chile peppers
1/2 cup fresh shallots
1/4 cup garlic cloves
1 tablespoon fresh red Thai chile peppers
3 tablespoons fresh lime juice
1.5 tablespoons tamarind concentrate mixed with 1.5 tablespoons water
2 tablespoons fish sauce
1/2 teaspoon salt
1/4 cup sliced palm sugar

Method

Roast the garlic in a dry wok over medium heat for about 5 minutes, being careful not to burn it, and set aside. Do the same with shallot, then green chiles.

Roughly pound these three ingredients together in a mortar and pestle, but don't pound it so much that it becomes a paste. Remove this from the mortar and set aside.

Place lime juice, tamarind, fish sauce and salt in a bowl, then add palm sugar and mix well to dissolve. Add the garlic/chile/shallot mixture and combine. Top with sliced red chile peppers and serve with any type of grilled meat. Enjoy!

Serving & Storage

Will keep for 2-3 weeks in a refrigerator.

Email This Recipe

Send this recipe to yourself or a friend.

Comments

Add a Comment

Related Recipes

Thai Three Flavors Fish, 'Pla Lat'

Thai-Style Peanut Sauce, 'Nam Jim Satay'

Thai Beef Flambe, 'Neua Pad Kimao'

Thai Beef Salad, 'Yum Nuea'

Essential Thai Pantry

| | |
| --- | --- |
| | See the ingredients and cookware that every Thai kitchen should have. |

Find Another Thai Recipe

Search By: Name | IngredientsNeed more help? Check out our Thai Recipe Helper

Start typing the name of the recipe you are interested in.