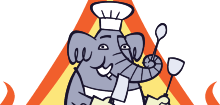 ImportFood.com

ImportFood.com
Thai Sweet & Sour Sauce, 'Nam Jim Priao Wan'

Buy ingredients for this recipe!

This is a simple, Thai-style, sweet and sour sauce. Note that it isn't pink!

This is promarily a salad dressing, but, since salads in Thailand are often cooked, even made from meats, the uses are somewhat wider than a simple dressing. And with "turkey season" being imminent in the West, you might want to note the suggestion below for a simple stir fry.

Ingredients

1 cup pineapple juice
1 cup coconut "nectar" (try to use the watery liquid not the thicker cream)
1/4 cup tamarind concentrate mixed with 2/3 cup water
1/2 cup lime juice
3 tablespoons coconut cream
1 tablespoon red curry paste
1 teaspoon ginger, grated

Method

Mix the juices in a saucepan and simmer to reduce to 2 cups of liquid. In a wok or skillet over medium heat, warm the coconut cream, and add the curry paste and ginger, and stir until the mixture becomes aromatic. Skim off and discard any oil that forms on the surface. Stir the curry mix into the juices, and then cool.

Serving & Storage

Will keep for 2-3 weeks in a refrigerator.

Email This Recipe

Send this recipe to yourself or a friend.

Comments

Add a Comment

Related Recipes

Thai Red Curry Squash Soup

Thai Chicken with Hot-Sour-Salty-Sweet Sauce

Thai-Style Pork with Peanut Sauce, 'Phraram Long Song'

Red Curry Oysters

Essential Thai Pantry

| | |
| --- | --- |
| | See the ingredients and cookware that every Thai kitchen should have. |

Find Another Thai Recipe

Search By: Name | IngredientsNeed more help? Check out our Thai Recipe Helper

Start typing the name of the recipe you are interested in.