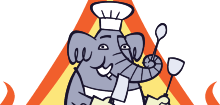 ImportFood.com

ImportFood.com
Thai-Style Wide Noodles In Thick Sauce, 'Kuaytiao Lad Na'

Buy ingredients for this recipe!

Lad Na is prepared in a two-step recipe that involves first frying wide rice noodles until they're just starting to get crispy. Then a sauce is quickly made and poured over the noodles. The translation of Ladna in English is "Pour on the Face".

Lad Na is served all over Thailand, so it can be considered a national Thai dish, see a sidewalk version here that's over 40 years old. It's typically served not spicy, with Thai condiments on the side to "fix the taste" and make it more spicy if that's desired. In Thailand, broccoli or "pak kanaa" is typically used. It's very good with asparagus as well.

Ingredients

10 oz wide rice noodles
4 tablespoons vegetable oil
1 tablespoon black soy sauce
1/2 lb chicken, cut into thin slices
3 tablespoons tapioca flour
1 tablespoon Maggi Seasoning
1 1/2 cups broccoli
1 tablespoon coarsely chopped garlic
1 tablespoon yellow bean sauce
3 cups chicken stock
1 tablespoon fish sauce
1 tablespoon oyster sauce
1 1/2 tablespoons sugar (or a bit less if you prefer)
1/2 teaspoon Thai pepper powder

Method

Soak the noodles in warm water for 30 minutes then rinse in cold water. Add noodles to a pot of boiling water and boil for 1 minute, then rinse in cold water again, and set aside.

Toss chicken with 1 tablespoon tapioca flour & the Maggi Seasoning. Marinate for 10 minutes.

In a mixing bowl, separate the noodles and toss thoroughly with 1 tablespoon oil and the black soy sauce. Fry this in a nonstick pan (noodles will stick to a wok so you should use a nonstick pan if possible) until golden brown. Remove from pan and keep warm.

Saute garlic in oil over medium heat until golden color, then add yellow bean sauce, stir well until fragrant. Add the chicken and saute until cooked. Add 2 1/2 cups chicken stock. When stock starts to boil, add broccoli and season with fish sauce, oyster sauce and sugar. Stir well and let cook a bit longer. Mix remaining tapioca flour separately with the remaining 1/2 cup chicken stock, then stir in with the chicken & broccoli until it thickens. Remove from heat.

Arrange the fried noodles on a serving plate, spoon the gravy over the noodles. Sprinkle with Thai pepper powder, and serve with prik dong in a separate small bowl (cut the chiles a bit before placing in the bowl). Enjoy!

NEW: Amazing Elephant Tom Kha Pouch.

NEW: Amazing Elephant brand "Tom Kha" Soup -- It's All In The Pouch. After years of development and investing in America, we are happy to introduce this ready-to-eat, premium quality, authentic and delicious Tom Kha soup made in small batches using the highest quality ingredients. Amazing Elephant brand puts everything in the pouch and cooks it to perfection.

To heat, simply put the pouch in boiling water for 3 minutes then open and serve alone or over rice. You can also microwave it for 90 seconds. It's all inside, so you don't need to add a thing.

This all-natural, gluten-free, preservative-free soup is precooked in a modern BPA-free pouch that's shelf stable for two years but tastes like it was just made fresh in a Thai grandmother's kitchen. Premium ingredients and sophisticated preparation ensure that this rivals anything a Thai restaurant serves.

More Info About Our Amazing Elephant Tom Kha

Thai Street Vendor Video

All of our videos can be found in our Thai Street Vendor Videos section.

Thai Street Vendor Photos

Email This Recipe

Send this recipe to yourself or a friend.

Comments

Bon Nuethong

December 16th, 2008
9:26 PM

Anonymous

December 17th, 2008
7:38 PM

James Elkins

September 19th, 2009
7:50 PM

Half Thai Ken

January 25th, 2010
9:57 PM

Anonymous

May 26th, 2010
10:18 AM

David Lopez

June 8th, 2010
11:26 AM

Ku

September 24th, 2010
2:48 PM

Tom Yum Koong

November 26th, 2011
9:15 AM

Grant

January 15th, 2012
3:24 PM

Sharon Fosnight

January 18th, 2012
7:07 PM

Veronica

August 24th, 2012
10:50 AM

Masha

April 29th, 2013
8:35 AM

Sue

July 24th, 2013
1:53 PM

kham

March 26th, 2016
6:20 PM

Anonymous

October 3rd, 2016
11:06 PM

Add a Comment

Related Recipes

Baked Rice in Earthenware Pot, 'Khao Op Mor Din'

Thai Fried Rice with Chicken

Thai Rama Chicken, 'Praram Long Song'

Thai Chicken with Hot-Sour-Salty-Sweet Sauce

Essential Thai Pantry

| | |
| --- | --- |
| | See the ingredients and cookware that every Thai kitchen should have. |

Find Another Thai Recipe

Search By: Name | IngredientsNeed more help? Check out our Thai Recipe Helper

Start typing the name of the recipe you are interested in.