How To Prepare Different Versions of Som Tum Our Step-by-Step Photo/Video Recipe
Som Tum is loved throughout SE Asia in various forms, and we are pleased to present this detailed summary so you can bring it to your own kitchen. Somtum is a classic Thai dish, commonly associated with the NE (Isaan) area but served all over Thailand including a sidewalk shop found on our walking tour of good eats in Saochingcha area.
Somtum is typically prepared three different ways but here we feature the classics and some innovative variations. It can be "Somtum Thai" which has peanuts mixed in, "Somtum Poo" which has small rice field crabs pounded in, or "Somtum Lao sai pla ra" which includes the juice of pickled mudfish. Som tum is eaten as a snack as a salad.
We also offer a very simple pre-made som tum sauce that you can add to the papaya, for quick preparation. NEW: prepare it quickly with Som Tum Powder.
Basic Version (see videos at left for variations)
Ingredients
2 cups shredded fresh green papaya, use a Pro-Slice Thai peeler
3 medium roma tomatoes, or use a few more if you can find cherry tomatoes
A handful of fresh string beans cut into 1 inch pieces
2 tablespoons dried shrimp
4-6 fresh Thai chiles, remove stems
3-4 cloves garlic
2 tablespoons fish sauce
2 tablespoons palm sugar
2 tablespoons fresh lime juice
2 tablespoons juice of pickled mud fish (optional)
Method
Peel fresh green papaya, rinse the white milk off, pat dry, then shred the whole papaya. Sprinkle with a bit of salt then rinse it off and drain. Keep 2 cups shredded papaya out, and put the rest in a sealed container for later use. Slice tomatoes thinly.
In a clay Lao-style mortar & pestle, coarsely pound the fresh chiles (whole) and garlic. Add string beans and sliced tomato, and pound it lightly (do not over-crush). Add dried shrimp, fish sauce, palm sugar and lime juice. Add these items spoon-by-spoon, and taste as you go. If you want to add peanuts, add now and lightly pound (optional). If you want to add pickled mud fish (pla ra), add two tablespoons of juice (optional).
Add shredded papaya and pound together until mixed well. Serve on a dish with fresh cabbage and string beans on the side. Enjoy!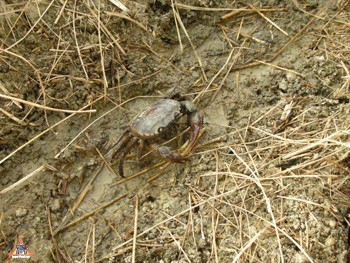 Feature: Poo Naa Rice Field Crab
Email This Story

Send this story to yourself or a friend.

Thai Feature Stories

How Shrimp Paste is Made

Tourists Using Saocingcha Guide

How Fish Sauce is Made

Selling Ice Cream on a River Boat

Thai Street Vendors

All of our street vendor features can be found in our Thai Street Vendors section.

Sesame Snacks

Fresh Seafood Stir-Fry

Assorted Thai Sweets and Appetizers

'Krua Kamnan'

Thai Street Vendor Videos

All of our videos can be found in our Thai Street Vendor Videos section.

Crab Fried Rice, 'Khao Pad Bu'

Thai Popsicles

Pushcart Roti

Fresh Rice Noodle Pad Siew

Comments

Anonymous

June 16th, 2012
2:07 PM

Kathi Peck

August 12th, 2013
12:59 PM

Anonymous

October 6th, 2013
4:01 PM

Linda

March 18th, 2014
9:16 AM

Martin

July 4th, 2014
9:08 AM

Bob

February 15th, 2015
9:20 PM

Anonymous

March 9th, 2015
3:57 PM

Anonymous

June 9th, 2016
3:18 AM

Lee joe

June 9th, 2016
3:21 AM

Add a Comment

Thai Street Vendor Video

All of our videos can be found in our Thai Street Vendor Videos section.