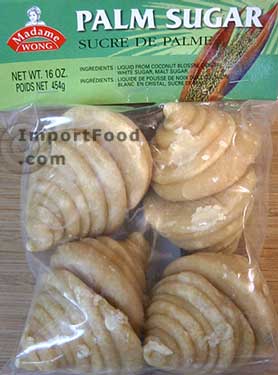 Palm Sugar, 16 oz package

In Thai recipes as well as recipes throughout Southeast Asia, palm sugar is used as a natural sweetener. Our palm sugar is the best you can find anywhere, as we import from a premium producer in western Thailand, where the natural sap is collected from cut sugar palms and boiled until a nice sticky sugar remains. The natural sugar is poured directly into little cakes and packaged for easy use (see photos below).

It can be also eaten as candy. Consistency is firm but slightly soft, making it more simple to use than the inferior rock hard palm sugar some are selling.

You get 8 small cakes, simply shave off what you need with a knife or use a hand grater (see photos), and it dissolves nicely in the cooking process. Use with curries, gourmet dishes, sauces, and various desserts.

Ingredients: Coconut blossom 75%, white sugar 20%, malt sugar 5%.

Below are just some examples from our recipe index. Cooking Light Magazine, in July 2010, recommended ImportFood.com for palm sugar. Elle Magazine recommends ImportFood.com for "sexy" palm sugar. ImportFood.com's palm sugar is recommended by Mark Bittman (New York Times). Product of Thailand. We also offer coconut sugar.
| | |
| --- | --- |
| | |
| | $3.49 |