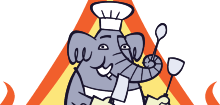 ImportFood.com
Thai Street Vendor Video Series: ImportFood.com Exclusive
Enjoy watching the treasured Thai street vendor in action. There's no better way to learn how to cook Thai food. Also see our online Thai Recipes. These videos organized in order of publication date, oldest first.
Thai Street Vendor Video Search!
Start typing the name of the video you are interested in.
Radna Wide Noodles in Gravy
Street Vendor Video: Pad Thai
Larb Woonsen
Pad Thai on Banana Leaf
Garlic Shrimp, 'Goong Pad Gratiem'
Tom Yum
How To Make Thai Curry Paste: Video
Thai Sticky Rice: How to Make It
Northern Thai Sausage: Step-by-Step
Street Vendor Video: Gaeng Lueng
Fried Rice for an Old Man
Feature: Khao Larm, Sticky Rice in Bamboo
Prime Minister of Thailand Cooking Show
Street Vendor Video: Pork Satay
Tom Kha Gai
Bangsaen Beach BBQ Chicken
Crispy Pork Belly Fried Rice
Shrimp Fried Rice, 'Khao Pad Goong'
Steamed Curry Fish Custard, 'Hor Mok'
Stir Fry Seafood & Vegetables, 'Pad Pak Ruam Mit'
Thai Foodlife, Closer To The Heart
Basil Pork with Fried Egg, 'Grapao Moo Khai Dao'
Thai Ginger Chicken
Larb and Somtum from Motorcycle Kitchen
Crab Fried Rice, 'Khao Pad Bu'
Mussel Pancake, 'Hoi Tod'
Rice Steamed the Old-Fashioned Way
Thai Iced Tea and Coffee
Green Papaya Salad, Som Tum
Roti Sai Mai
Street Vendor Ice Cream Pushcart
Street Vendor Prepares Khanom Krok
Street Vendor Prepares Khanom Buang
Tang Taek (Bankruptcy Sweets)
Pork Noodle Soup
Entertaining Tour of Or Tor Kor Market
Market Girl: Mama Noodle Salad
Street Vendor: Pla Dook Foo
Pushcart Roti
Pok Pok Noodle Cart
Handmade Fire-Roasted Cookies 'Tong Muan'
Street Vendor: Pad Siew
Feature: Thai Wedding Customs & Food
Street Vendor Video: Sen Mee
Shrimp Chile Paste Stir-Fry, 'Goong Pad Namprik'
Pad Prik Gaeng
Feature: Seafood In The Gulf Of Thailand
A Visit to Koh Kred Island
Stir-fried Mixed Vegetables, 'Pad Pak'
Mee Krob Snacks
Stir-fried Seafood Basil, 'Pad Grapao Talay'
Market Fish Vendor: Preparing Pla Chon
Feature: Take Me Back (Music and Cooking)
Street Vendor: Namtok (Waterfall Pork)
Feature: Street Vendor Corn
Fried Rice Meat and Vegetables
Feature: Thai Floating Market
Feature: How Coconut Milk is Made
Pounded Peanut Roll
Flat Wok Pad Thai
Street Vendor: Khanom Buang Yuon
Street Vendor: Pad Siew Moo
Feature: Bangkok Street Scenes
Street Vendor: Yum Woonsen
Pad Pak Boong
Cracked Crab Thai Curry 'Bu Pad Pong Kari'
Thai Basil Chicken
Massaman Gai
Vegetarian Pad Siew
Feature: Songkran
Feature: Thai Ordination Ceremony
Grapao Goong Plamuk Khai Dao
Feature: Barbeque Squid
Panang Moo
Shrimp Cakes, 'Tod Mun Goong'
Shrimp Cakes Dipping Sauce, 'Namjim Tod Mun'
Khao Pad Moo Krob
Feature: Preparing a Durian
Chicken in Pandan Leaves
Khao Soi
Sen Yai Kee Mao Moo
Roasted Chile Paste, Prik Pao
Khao Pad Moo Sai Khai
Feature: Chinese New Year in Bangkok
Feature: How To Shred Sour Mango for Som Tum
Feature: Shred Green Papaya for Som Tum
Som Tum Long Beans and Noodle Salad
Som Tum Shredded Sour Mango & Cucumber
Feature Video: Sticky Rice Serving Basket
Khanom Chan
Street Vendor Prepares Two Variations of Pad Thai
Green Curry Pork
Lod Chong Singapore
Gai Tod Hatyai
Thai Vegetable Carving: Carrot Flower
Thai Vegetable Carving: Cucumber Petal
Som Tum Trang
Pad Ped Plachon
Kao Kreap Bak Moh, 'Rice Pancake'
How to Make Sausage Casing
Sen Mee Pad Siew Moo
Matsaman Curry Paste from Scratch
Green Curry Paste From Scratch
Miang Kham
Som Tum Khai Kem (Som Tum on Salty Egg)
Fried Papaya with Egg
Gaeng Tai Pla
Yum Crispy Kan Kana Salad
Pla Rad Joo Khing
Thai Classical Dance
Thai Popsicles
Thai Meatball Vendor
Southern Thai Steamed Egg
Crispy Rice Cakes
Thong Yod
Sidewalk Thai Stir Fry
Khanom Kha Moo
Pa Thong Ko
Pad Ped Long Bean
Khanom Jeen
Thai Monks
Thai Restaurant Kitchen Action
Shoo Shee Curry Fish
Pad Ped Bai Grapao
Khanom Buang
Thai Cashew Chicken
Goong Pad Pong Kari
Krong Kraeng Krop
Fried Thai Peanut Cookie
Tom Yum Goong
Fresh Wide Rice Noodles
Fresh Rice Noodle Pad Siew
Lod Chong Thai
Ant Egg Soup
Banana Coconut Milk
Pad Thai Pork
Bangkok Vendors
Kee Mao Talay
Ladna Pork
Basil Chicken w/Egg
Larb Moo
Kanom Krok Vendor
Kanchanaburi Pad Thai
Thai Tofu Soup
Basic Som Tum
Thai Steamed Buns
Iced Tea and Coffee
Coconut Pancakes
Gai Yang
River Kwai Vendors
Dancing Thai Tea
Pad Thai Basic
Pork Fried Rice
Pad Thai Shrimp
Steamed Wraps
Roti Vendor
Khao Purp
Thai Shaved Ice
Self-Serve Restaurant
Clay Pot Noodles
Seasoned Quail Eggs
Yum Yum Busarin
Brass Wok Bua Loi
Thai Fried Rice
Holy Basil Squid
Yum Naem Khao Tod
Thai Street Vendor DVD

Now on DVD:
Learn How To Cook
Like a Thai Street Vendor

Highest Quality DVD from Victory Studios, Seattle WA.

Since 2008 we've presented new, professionally-produced Thai Street Vendor videos at ImportFood.com. Many customers say these videos offer the best instruction on how to cook authentic Thai food, and request that we offer it on DVD.

Our new Thai Street Vendor Cooking DVD offers 20 of our most popular videos in full picture format so you can watch them on your computer or at home on your big screen tv. Quality is outstanding, and the DVDs are professional grade not cheap reproduction discs from an office supply store.

The DVD is packaged in a standard case, with a recipe booklet inside detailing the ingredients and method of each recipe shown in the DVD. More Info.

| | |
| --- | --- |
| | $17.95 |

Thai Street Vendor Cooking Game

ImportFood.com Thai Street Vendor Virtual Chef / You Control The Wok! Learn real Thai chef techniques. Check out our great new online video game on Facebook. It's free, you're the a street vendor chef, and it's a lot of fun!

ImportFood.com iOS Apps

Download our Apps for Free at the App Store. Our recipe App is a huge cookbook with photographs and street vendor videos. The result of 12 years of research into Thai cooking, includes 295 Thai recipes. Our Street Vendor Game App is great fun--pickup the virtual wok turner on your iPhone, iPad or iPod & create authentic Thai dishes while surrounded by the sound Bangkok streets. Check out our Apps here at this link.

Email This Page

Send this page to yourself or a friend.

Find A Thai Recipe

Search By: Name | IngredientsNeed more help? Check out our Thai Recipe Helper

Start typing the name of the recipe you are interested in.