Pumpkin in Coconut Soup with Shrimp, 'Phaktong Tom Kati'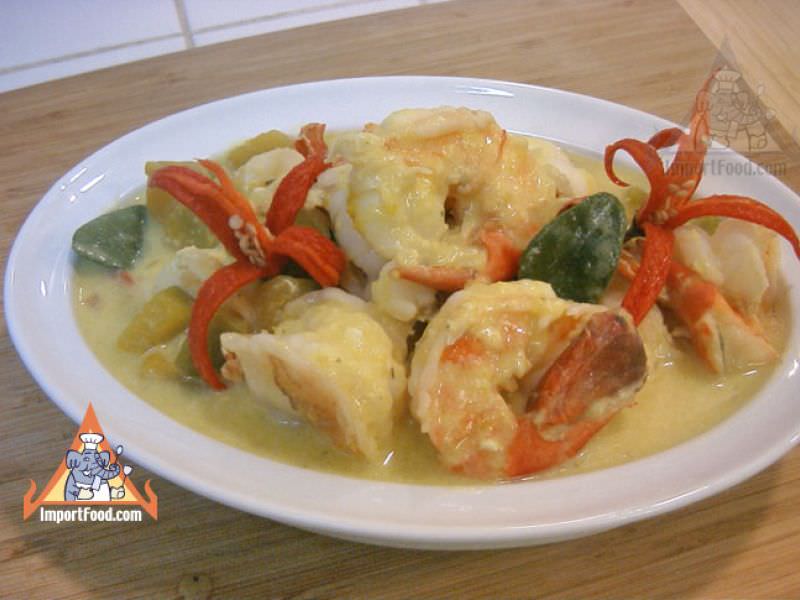 Ingredients
For 4 Person(s)
Ingredients
3 1/4

Cups

Squash, Prefer Kabocha or Buttercup variety, cut into large cubes

2

Cups Coconut Milk

1/2

Cup

Coconut Cream (see note below)

1 1/2

Pound

Large Shrimps or Prawns, peeled and deveined, tails on

1/4

Cup Shallot, Sliced

2

Tablespoons

Shallot, Coarsely Chopped

2

Teaspoons

Salt

2

Tablespoons Palm Sugar

4

Tablespoons Fresh Lime Juice

2

Cups

Soup Stock

1

Large Egg, lightly beaten

5

Kaffir Lime Leaves, torn
Buy ingredients for this Recipe
Method for Pumpkin in Coconut Soup with Shrimp, 'Phaktong Tom Kati'
In a mortar and pestle pound the peppercorns, sliced shallot, and 1/2 teaspoon salt until it forms a nice paste.
In a large soup pot, heat coconut milk over medium-high heat, then add the peppercorn mixture and bring to a boil. Add soup stock and pumpkin, stir and let cook for about 10 minutes or until pumpkin starts to get soft. Add shrimp, season with salt, palm sugar and lime juice. Stir in chopped shallots. Let it cook to a mild boil, stirring soup with a circular motion.
Gradually drizzle the egg into the soup, stirring gently until the egg is cooked. Add coconut cream (see below) and kaffir lime leaves, stirring quickly. Remove from heat, ladle into a bowl, serve hot and enjoy!
To get coconut cream, remove the lid from a can of coconut milk and, without stirring the contents, remove the top cream and discard the thin liquid. Our Chaokoh brand is very high quality so it only takes about 3/4 cups of coconut milk (or less) to yield 1/2 cups coconut cream.
Pumpkin in coconut soup with shrimp phaktong tom kati
Just before it's finished

Reviews