Fresh Thai Chile Peppers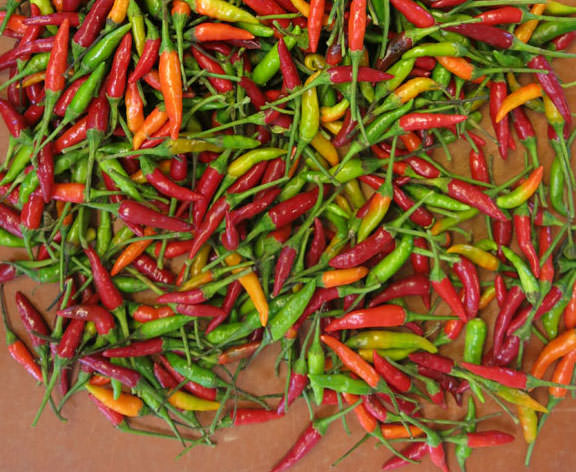 While many different varities of chile peppers are found in Thai cuisine, we offer the most common variety known as prik ki nu, or "bird chile". Our chiles are very spicy, with high heat level and nice appearance. You can expect your fresh chiles to arrive with fresh green stems and clean appearance, ready for cooking.
Most of our Thai recipes call for Thai chiles and these will work fine for all of your Thai cooking needs. If your local grocer has a good selection of chile peppers, feel free to use whatever is available and don't let the type of chiles stop you from cooking Thai food. Habanero will offer higher heat than Thai chile, and jalapeno will be lower. You can mix and match as you prefer, or just order the real thing from us.
Our Thai chiles are grown in the United States and we have a year-round supply. We most often ship mixed green/red Thai chiles, as shown, but on a seasonal basis we may have only green.
Add to Cart 16 oz Fresh Thai Chile - $16.95 - Includes Shipping
Add to Cart Fresh Thai Chile, 16 oz + Fresh Lemongrass, 32 oz - $24.95 - Includes Shipping
Add to Cart Fresh Thai Chile, 16 oz + Fresh Galangal, 16 oz - $24.95 - Includes Shipping
Add to Cart Fresh Thai Produce Kit - Lemongrass (2 lb), Thai chile (8 oz), galangal (8 oz), and 2 fresh limes - $26.95 - Includes Shipping
We ship fresh USA-grown Thai chiles via Priority Mail, quick delivery within 2-3 days straight to your mailbox. They are packaged well and should be refrigerated promptly. Please Note: if you order only fresh produce, select "$0.00" as shipping charge at checkout (because the prices below include shipping). Occasional delays due to Mother Nature & harvest conditions. Call 888-618-8424 if you need a definite delivery date. If you order fresh chiles and any other non-fresh items, you must checkout with "Ground" as the shipping method, and you will receive the other items separately. We also offer a Fresh Thai Produce Kit.
Thai chile is an annual plant that grows into a bush (see pictures below). The fruit contains many white seeds and you can remove the seeds to tone the heat level down if you prefer a milder flavor. Fresh chiles are a great source of vitamin A, B and C. We also offer whole dried chile peppers and we offer ground Thai chiles which are both very high-heat.
Good quality fresh chiles will keeps for a weeks in the fridge before they change color and break down. For long-term storage, freeze in a ziplock bag. Freezing will maintain flavor, but the chiles become a bit soft/mushy when defrosted for later use.
Hot Varieties: Suan, Ga-Liang, Chee fah lek
Mild Varieties: Chee Fah, Luang, Yuak
Fresh Thai Chile Bush, Kanchanaburi
---
In Health magazine, Dr Jennifer Berman's article "Healthy Life. Great Sex. Six Foods For Better Sex" mentioned chile peppers. She states "Chile peppers can really spice things up--and not just in your mouth--thanks to capsaicin, a chemical that's been shown to induce the release of endorphins in the brain, which create a feeling of euphoria. The potential payoff? Enhanced foreplay and hotter sex."
---
We recommend fresh Thai chiles in the following ImportFood.com Thai recipes:
Pad Kee Mao / Drunkards Noodles
Prawn Soup with Lemongrass, "Tom Yum Goong" (street vendor video included)
Street Vendor Prepares Basil Chile Seafood with Egg, "Grapao Goong Plamuk Khai Dao" (video included)
Son in Law Eggs, "Khai Look Koei"
Yum Met Mamuang Himaphan, Spicy Fried Cashew Nuts
Thai Curry Paste Made From Scratch (street vendor video included)
Thai Beef Flambe, "Neua Pad Kimao"
Turmeric Chicken Soup, 'Gai Tom Khamin'
Street Vendor Prepares Pad Prik Gaeng (street vendor video included)
Street Vendor Prepares Seafood Stir Fry with Basil (street vendor video included)
Tom Yum Style Stir-Fried Rice, "Khao Pad Tom Yum"
Thai Fried Pork with Fresh Basil, "Pad Kaprao Moo"
Thai Papaya Salad, "Som Tum" (street vendor video included)
Thai hotdogs tomyum flavor, Thai-American style
Gai Tom Kha Namsai, Rayong Style Tom Kha Soup
Thai Cashew Chicken , "Gai Pad Med Mamuang Himaphan"
Thai Masaman Chicken, "Gaeng Masaman Gai"
Thai Style Wide Noodles In Thick Sauce, "Kuaytiao Lad na" (street vendor video included)
Rice with salty chili sauce & seafood (Chantaburi-style), "Khao Kruk Prik Klua"
Thai Fried Clams in Roasted Chile Paste, Hoy Lai Ped"
Grilled Meat Dipping Sauce, "Nam Jim Jeaw"
Shrimp Cake Dipping Sauce, "Nam Jim Tod Mun" (street vendor video included)
Thai green curry with chicken & eggplant, "Gaeng khiao wan gai"
Thai Five-Spice Soup with Rice Chips, "Kua Chap"
Catish with Green Mango Salad, "Pla Dook Foo" (street vendor video included)
Thai Fried Rice with Chicken, "Khao Pad Namprik Pao Sai Kai" (street vendor video included)
---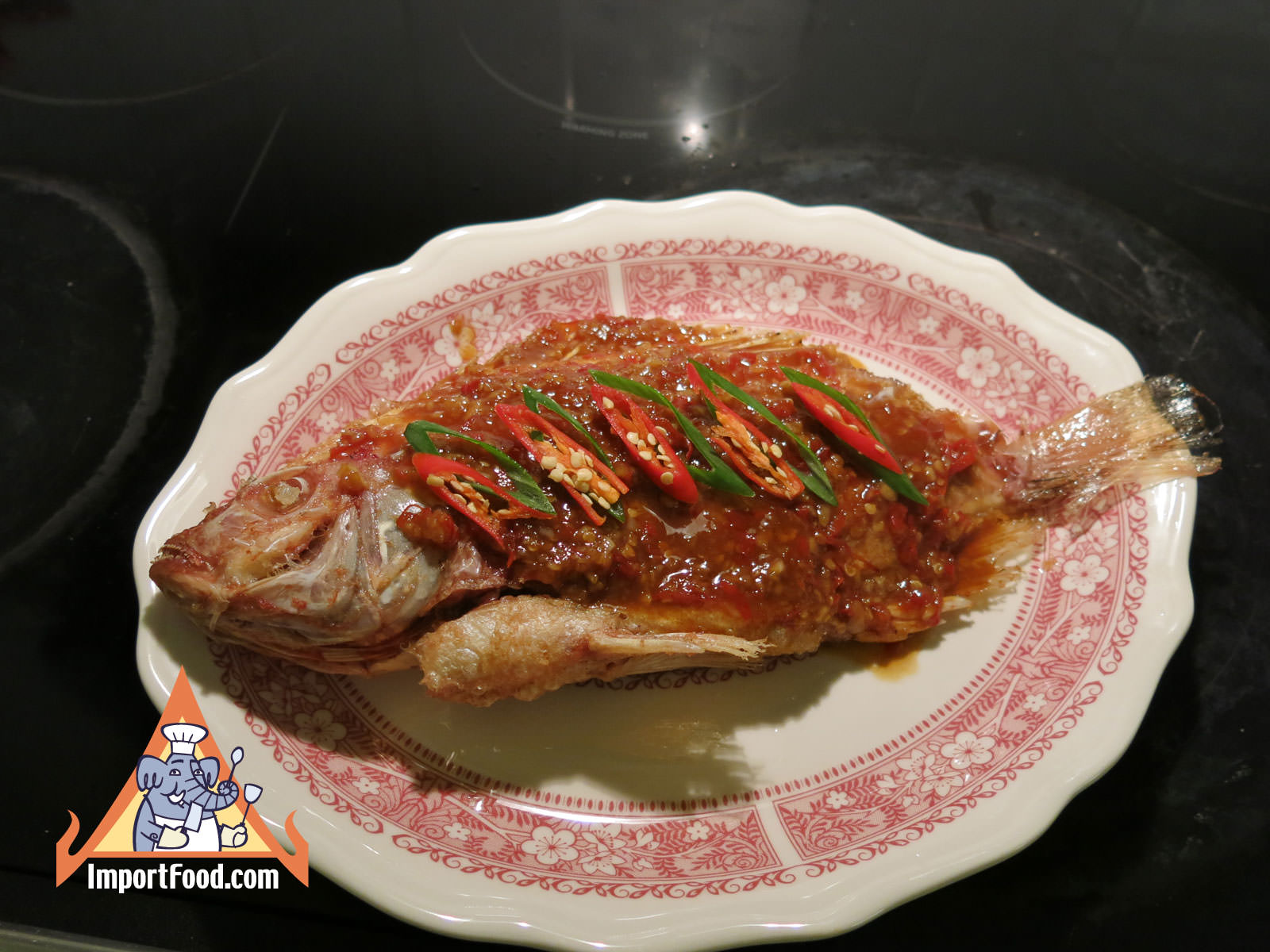 Thai Crispy Fish Topped with Chili Sauce, 'Pla Rad Prik'
This is a very spicy crispy fish that's surprisingly simple to make using just a few ingredients. It's best to use fresh red Thai chile peppers. Regarding the fish, here we used tilapia you can use any fish such as cod, catfish, trout, salmon, etc. We had the fish cleaned and gutted but left the head on. You may prefer to remove the head, or even use fish fillets -- it doesn't matter.
Note that when you've finished frying your fish, put it in the oven at 350F for 10 minutes or so as you prepare the sauce, as this will make it even more crispy.
---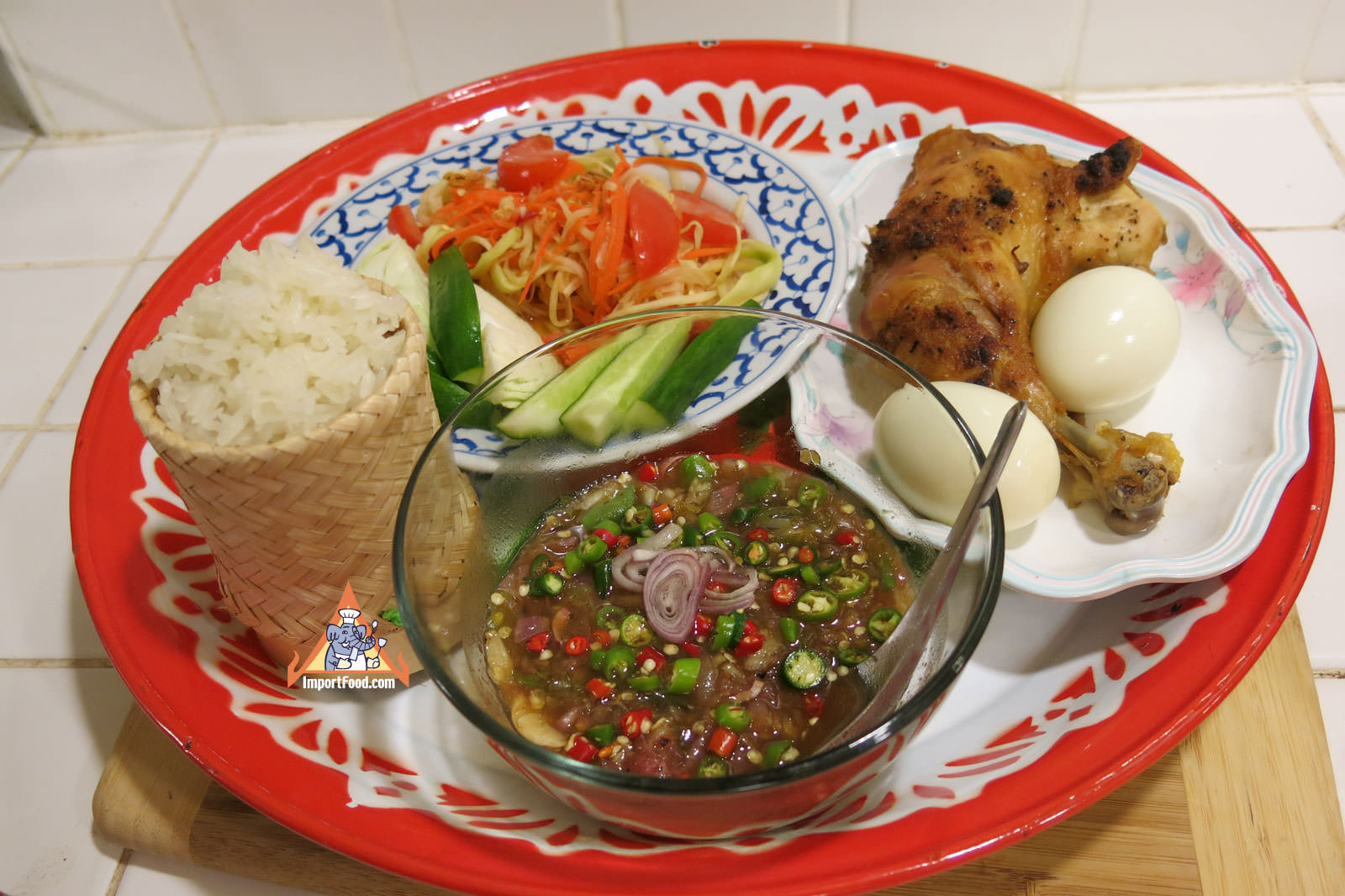 Thai Sweet & Sour Sauce, 'Nam Jim Priao Wan'
This is a simple, Thai-style, sweet and sour sauce. Note that it isn't pink! The sauce is spicy and has complex flavors.
Serve with any grilled meat. We enjoyed it here with chicken, som tum, sticky rice, and hard-boiled eggs.
---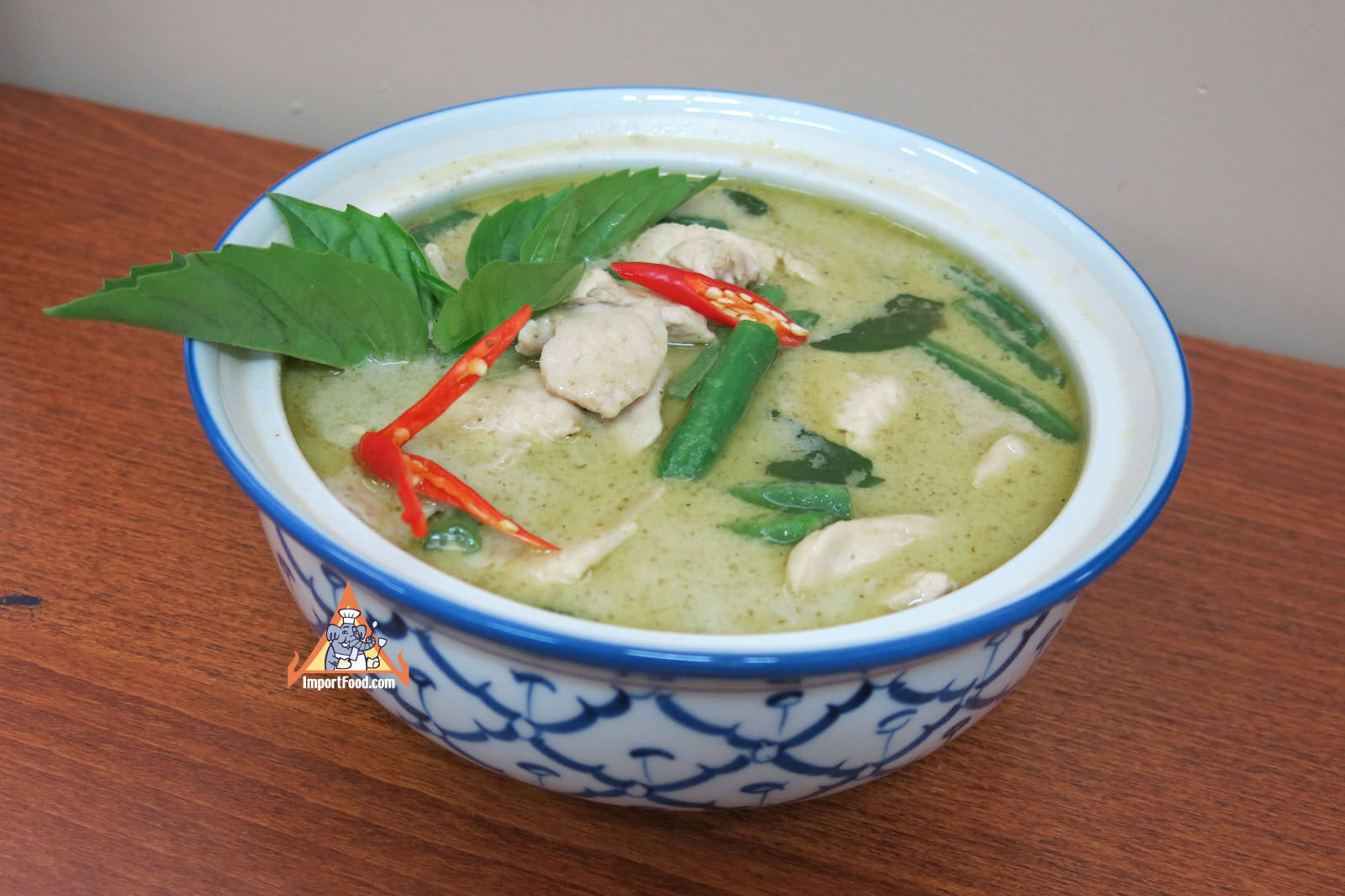 ---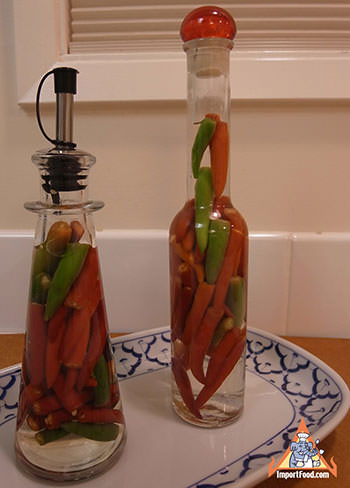 Spice up your food with this simple, homemade heat. The combination of sour vinegar with hot Thai chiles is a common condiment in Thailand (called "nam som"), but this goes along great with American food too--especially southern favorites like collard greens, fried chicken, green tomatoes, etc.
Use the link below to order, and we'll send you a nice mix of red/green.
You might want to pickup some little jars like this from a local kitchen store (we got these at Cost Plus World Market for $4), and make your own hot sauce to give away as gifts for the holiday season.
Method
Fill your glass jar with red and green Thai chile peppers, stemmed, filling to 1-2 inches from top of jar. Bring 1 cup white wine vinegar (as shown) or cider vinegar, 1 tsp salt, and 1 tsp sugar to a boil in a small saucepan over medium heat, stirring until salt and sugar are dissolved. Remove from heat, and let stand for about 5 minutes.
Pour hot mixture over peppers in jar. Cover and chill 3 weeks, this allows the peppers to fire up the vinegar mixture. The longer it sits, the spicier it becomes. Store in refrigerator for 6 months or more.
If you order using link below, we'll ship only ideal quality, which may take a week or so.
Add to Cart
16 oz Fresh Red & Green Thai Chile - $17.95
---
Try our Tom Kha Kit. Extraordinary Value.
"Tom Kha Gai" is one of our favorite Thai recipe, and it's been a favorite of our customers for years. Here's everything you need to make several large servings of the best fresh home-made authentic Tom Kha. A thoughtful mix of fresh Thai herbs with all ingredients. Expedited to your door via 2 day shipping to ensure fresh delivery. You'll also be able to make other Thai recipes. This is a great value and includes one Amazing Elephant Tom Kha. Checkout with Ground shipping and we'll upgrade it to expedited 2 day at no extra charge.
---
Thai Cafe Kit
A thoughtful mix of fresh Thai herbs with ingredients to make a delicious authentic tom yum soup, tom kha soup, Thai green curry and red curry. Expedited to your door via 2 day shipping to ensure fresh delivery (upgraded at no charge). You'll also be able to make quite a few servings of other Thai recipes. This is a great value and will have you cooking healthy Thai meals right away. Checkout with Fedex Ground but we'll upgrade it to expedited 2 day at no extra charge.
Add to Cart
Thai Cafe Kit with 5lb Jasmine Rice - $37.95
---
NEW: Amazing Elephant brand "Tom Kha" Soup -- It's All In The Pouch. After years of development and investing in America, we are happy to introduce this. Ready-to-eat, premium quality, authentic and delicious Tom Kha soup made in small batches using the highest quality ingredients. Amazing Elephant brand puts everything in the pouch and cooks it to perfection.
Even If You Are New to Tom Kha, You Will Love This Soup!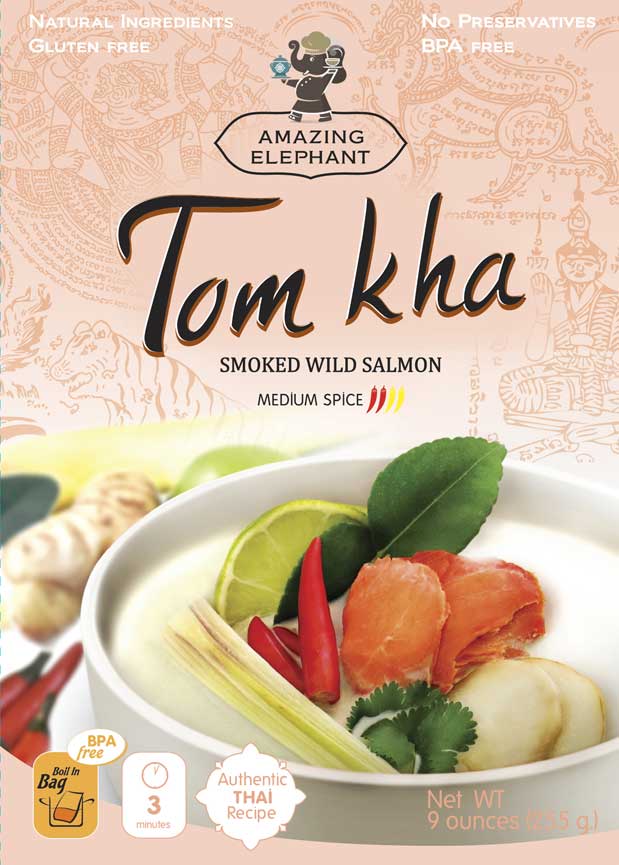 To heat, simply put the pouch in boiling water for 3 minutes then open and serve alone or over rice. You can also microwave it for 90 seconds. It's all inside, so you don't need to add a thing.
This all-natural, gluten-free, preservative-free soup is precooked in a modern BPA-free pouch that's shelf stable for two years but tastes like it was just made fresh in a Thai grandmother's kitchen. Premium ingredients and sophisticated preparation ensure that this rivals anything a Thai restaurant serves.
We offer two versions:
1. Tom Kha Smoked Salmon: Tom Kha served with smoked Alaskan wild salmon is a combination made in heaven. If you're familiar with Tom Kha chicken, you must try it with smoked salmon. It's "Out of This World" delicious. Each pouch contains a generous 2 oz portion of smoked salmon.
Ingredients: coconut milk, smoked Sockeye or Coho salmon (Sockeye or Coho salmon, salt, natural alder smoke), water, lime juice, fish sauce (anchovies, salt, sugar), cane sugar, galangal, carrots, celery, Thai chili peppers, onions, lemongrass, kaffir lime, shallots, tapioca starch, garlic, dried chiles, kaffir lime leaf powder.
2. Tom Kha (no meat). If you like Tom Kha over rice, or with chicken or shrimp, here's a large (9 oz) serving. Simply heat and serve alone or add meat of your choice. Also very good with fresh mushrooms.
Ingredients: coconut milk, water, lime juice, fish sauce (anchovies, salt, sugar), cane sugar, galangal, carrots, celery, Thai chili peppers, onions, lemongrass, Kaffir lime, shallots, tapioca starch, garlic, dried chiles, Kaffir lime leaf powder.
Contains: Fish (anchovy), Tree Nuts (coconut)
Add to Cart
Tom Kha (no meat) - Temporarily Out or Stock
The Recipe. For this particular finished product, we're not sharing the recipe (it took years to perfect); but there is no question that it tastes authentic, otherwise we woudn't do it. Our soup rivals anything made from scratch in any famous Thai restaurant (it's *that* good) and simply blows away the existing competition from the likes of Lobo or Por Kwan in their premade Tom Kha instant mixes -- there is no comparison. Once you've tasted this, you may not order Tom Kha at a restaurant again. Here is a good recipe for tom kha if you really do want to make it at home from scratch.
For 15 years we've specialized in demonstrating truly authentic Thai recipes, with Tom Kha being one of our website's most popular, for good reason. The combination of coconut milk, galangal, lemongrass, lime juice and chile peppers creates a sensational flavor that somehow transcends taste preferences around the world. Everyone, everywhere, it seems, loves the flavor of Tom Kha.
Premium Ingredients, Sophisticated Technology, Artisan "Small Batch" Method. We're passionate about delivering a premium product, and confident that after years of experience dealing with the finest growers and purveyors, nobody can do it better. Our process involves preparing relatively small batches. The founder of ImportFood.com literally chooses every fresh ingredient that goes into each batch, and is in the facility personally watching every step of the process.
Everything is Fresh -- None of the Ingredients Have Been Frozen.
Galangal. The galangal we use is sourced from Hawaii, chosen at the perfect stage to ensure excellent taste and aroma. It comes out of the ground and into our facility within 3 days. We slice the fresh roots by hand just minutes before it goes into the soup. It would be nearly impossible for anyone to make this soup with a fresher galangal.
Lime Juice. We carefully select the best fresh limes from a wholesale market in Seattle and squeeze the limes on location. No prepackaged lime juice--just the real thing, fresh-squeezed. This is very time-consuming but we wouldn't have it any other way. One of the highlights of our soup is the rich taste of fresh lime.
Chiles and Lemongrass. We use the perfect mix of fresh red Thai chiles and lemongrass sourced from the market in Southern California. Every stalk and every chile is selected with our own eyes and cut by hand the same day our soup is made.
Garlic and Shallots. We use the highest quality fresh shallots, which come from a small farm in Washington State, and our garlic is a special variety grown in Oregon.
Coconut Milk. We use ONLY fresh-pack, all-natural, preservative-free, 100% pure coconut milk. As a direct importer from Thailand for many years, we've established ourselves with what we believe is the best producer of all-natural coconut milk. You are getting the "best of the best" in our soup.
Fish Sauce. We use only Tra Chang Gold Label premium fish sauce.
Why is it in a Pouch? This is no ordinary pouch--it's the highest quality pouch available anywhere in the world. The pouch is modern, BPA free, simple to use, relatively inexpensive, and far easier on the environment than cans. Our soup is cooked entirely in the pouch in a modern facility using high heat and a relatively long cooking time, under high pressure. The final result is not just a superb product, but one that is shelf-stable for two years. Store the pouch at room temperature, no refrigeration required.
State Of The Art Facility
Fresh Lemongrass, Prepared Just Right
The Wild-Caught, Alaska Smoked Salmon.
Inside every pouch is a generous handful (2 oz net weight) of premium wild Alaskan smoked salmon.
Our salmon is soaked in our own simple, natural brine formula then put into a modern smoker, burning real hardwood.
After it comes out of the smoker, we hand-cut it into chunks perfect for the Tom Kha. The freshly-prepared salmon is then added to the pouch and sealed up.
Sockeye salmon is a quality, lean, healthy fish that comes at a relatively high price, but we wouldn't have it any other way.
The combination of flavors here is not just irresistible to your tastebuds; served over steamed rice, this soup is one heck of a meal, offering plenty of healthy calories to carry you through the day.
MADE IN THE USA. There's no need to wonder where your food comes from with our soup. This product is produced under the watchful eye of American regulatory authorities who set strict guidelines on food manufacturing. Our soup has already gone through a rigorous analysis, the process has been approved, and everything has been registered with the US FDA.
Rest assured that you're also supporting American jobs. This soup is packed in the great Pacific Northwest in a new facility that rose from nothing and is now creating jobs for hard-working people. We're doing our part to not just support the local manufacturing economy, but also American farmers & fishermen.
As business grows, employment is expanding and some workers are getting plenty of overtime: wage income that spreads throughout the community. Furthermore, when it comes to sales, ImportFood.com is an experienced global trader, so your support of this product will help us to create export markets--thus expanding American production.
Why Is The Price So Low? Compare the price of our pouches to the salty, msg-laden Tom Kha spice pastes from Thailand that require you to add your own coconut milk & other ingredients. Our product tastes far better and generally costs less. Also, the retail price of 9 oz all natural cocont milk is close to what we're charging for the entire pouch of finished soup. Assembling all of the ingredients in your own kitchen to make Tom Kha from scratch would likely cost more. The explanation is that we import the coconut milk directly, and we deal directly with growers, all of this keeps cost down. Also, we have our own retail store (ImportFood.com) AND we manufacture the soup ourselves, so we can sell it directly to you for near our production cost. You get a great deal, and we enjoy delivering a superior product.
---