Thai baby ginger, strips, 16 oz
Thai baby ginger, strips, 16 oz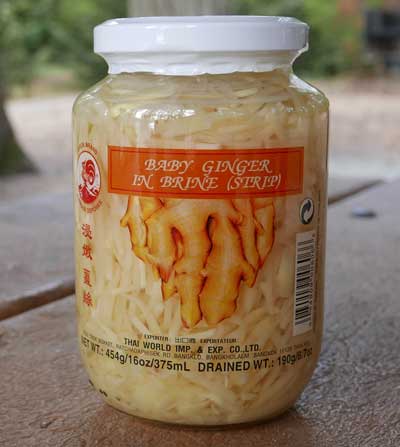 Add to cart
$5.29

Thai ginger is has a nice gentle flavor that does not overpower the other ingredients, and it's also very aromatic. This baby ginger cleaned and sliced into matchstick pieces for the best convenience. We also offer sliced pickled ginger.
Simply rinse with water, drain and set to dry for a few minutes, then use.
Ingredients: water, baby ginger, salt, lactic acid, sodium benzoate.
Product of Thailand.











---
---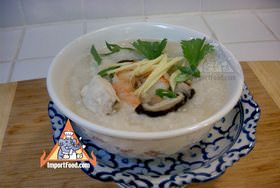 Thai Congee, Rice Porridge, Seafood
Delicious, warm soup for the heart and soul, this is an everyday meal that is often eaten by someone feeling ill similar to the way chicken soup might be used in America. In Thailand you can always find a street vendor offering congee, known in Thai as 'Joke' (taken from Cantonese language), early in the morning. This is often accompanied with
Thai donuts
. A similar recipe is
khao tom
which is not as thick as joke. Enjoy the pictures below as you can see a vendor making Joke the traditional way. Simple and delicious, and not only nutritious but also easy to eat so it's a fine remedy for someone feeling ill.
---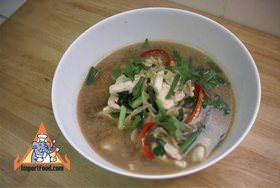 Thai Chicken and Ginger Soup, 'Gai Joo Khing'
Joo means stir fry in the ancient Chinese language. Gai = chicken, Khing = ginger.
This is a regional recipe from Kanchanaburi province in Thailand. Similar to normal ginger chicken soup, this style is a bit sweet and salty as a result of the yellow bean sauce. It also has a mild heat from ginger and Thai pepper powder, which helps release gas from the stomach.
In the past and also nowadays, Gai Joo Khing is the best dish to help a woman recover from giving birth and brings a lot of breast milk for the baby.
Not only can you use chicken for this tasty dish, but fried fish can be used also. To make good Gai Joo Khing, you must fry the chicken with garlic and ginger until the aroma and flavor of ginger is prominent in the chicken before you add water.
---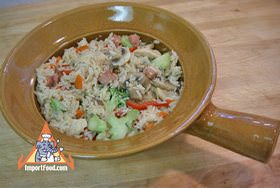 Baked Rice in Earthenware Pot, 'Khao Op Mor Din'
This is a tasty baked rice that you might find in a fancy Thai-Chinese restaurant. We like how the chicken and ham blend with the rest of the flavors, but you can omit the meat or use less. Use the vegetables of your choice. To make this dish we used the authentic Thai clay pot as shown, and that really does enhance the flavor because the lid allows slight airflow. We heated the clay pot in the oven before adding the rice also.
---