Thai spice kit (14 spices)
Thai spice kit (14 spices)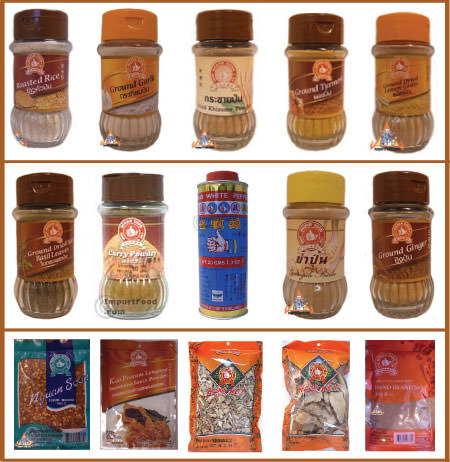 Highest quality spices direct from Thailand. All of these are fresh from the spice mill and perfect for making a lovely gift for anyone who enjoys cooking, unique premium quality fresh Thai spices.
A great deal on authentic exotic imported Thai spices--a $48 value at our already low prices.
Order the kit with or without a solid granite mortar and pestle.
1 Thai curry powder, 1.75 oz
1 Galangal powder, 1 oz
1 Lemongrass powder, 1.4 oz
1 Roasted rice powder, 3 oz
1 Turmeric powder, 3.5 oz
1 Ground Thai garlic, 1.76 oz
1 Thai basil, ground, 1.4 oz
1 Krachai powder, 1.35 oz
1 Thai ginger powder, 1.05 oz
1 Ka-leang chile, ground 1.75 oz
1 Praram Longsong, 1.76 oz
1 Dried lemongrass, 3.5 oz
1 Galangal, dried, 3.5 oz
1 Five Spice Blend, 3.5 oz
Add to Cart
Kit with 6" granite mortar/pestle. Not Avail