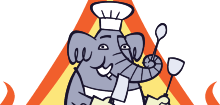 ImportFood.com

ImportFood.com
Sweet Basil Seed Drink

Buy ingredients for this recipe!

At the right is a glass of Thai sweet basil seed drink. It is made by stirring 1/3 cup sugar into 2 cups water (use less sugar as per your taste preference), add 1 tablespoon honey and stir. Then add 4 teaspoons of sweet basil seed. Within 2-3 minutes the basil seeds expand and look very odd, a bit like tadpoles! We imagine this could be an interesting party drink. But it's also delicious--the seeds become soft with a consistency similar to eating watermelon. According to Thai tradition, this drink also helps a person lose weight. In Asian stores it's common to see cans of this drink. Now you can make your own. Product of Thailand. We also sell fresh Thai basil. In a stellar endorsement, Dr Masahiko Matsushita endorsed ImportFood.com basil seed in his weekly health column for the Japanese community in America. We love basil seeds as included in our Thai icecream recipe.

Thai Sweet Basil Seed, 3.5 oz
$4.85

Email This Recipe

Send this recipe to yourself or a friend.

Comments

Anonymous

October 9th, 2012
8:39 AM

Sikandar Nirmal Singh

January 30th, 2013
2:11 AM

ratree

September 4th, 2013
12:14 PM

Anonymous

October 30th, 2013
12:34 PM

Anonymous

December 12th, 2014
9:00 PM

Anonymous

December 26th, 2014
9:12 AM

Anonymous

March 13th, 2015
1:23 AM

Anonymous

September 30th, 2015
4:11 AM

Anonymous

October 31st, 2015
9:28 PM

Anonymous

November 17th, 2015
9:11 PM

Jerry Kautz

January 4th, 2016
5:43 PM

Anonymous

May 28th, 2016
9:26 PM

Anonymous

June 8th, 2016
5:00 PM

Anonymous

July 26th, 2016
1:38 AM

Robin

July 30th, 2016
10:30 PM

Avijit Mullick

October 15th, 2016
12:12 AM

Tav

October 17th, 2016
3:44 AM

Mama V

October 27th, 2016
9:24 AM

Add a Comment

Related Recipes

Thai Ice Cream with Basil Seeds & Chocolate-Ginger Ganache

Panko Shrimpcakes with Chile-Lime Sauce

Thai-Style Wide Noodles In Thick Sauce, 'Lad Na'

Khanom Buang

Essential Thai Pantry

| | |
| --- | --- |
| | See the ingredients and cookware that every Thai kitchen should have. |

Find Another Thai Recipe

Search By: Name | IngredientsNeed more help? Check out our Thai Recipe Helper

Start typing the name of the recipe you are interested in.