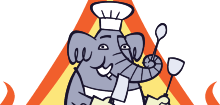 ImportFood.com

ImportFood.com
Thai Green Curry with Chicken & Eggplant, 'Gaeng Khiao Wan Gai'

Buy ingredients for this recipe!

This recipe highlights the delicious Thai mini eggplant and it's a common recipe throughout all provinces of Thailand. It's easy to prepare, and almost always made with chicken & served with jasmine rice. Translation: Gaeng = spicy soup, khiao = green, wan = sweet, gai = chicken. We like to make it with lots of chicken so it's a hearty meal.

Also note we also have a similar green chicken curry recipe here.

Ingredients

2 tablespoons green curry paste
1 tablespoon cooking oil
2 cans (5.6 oz each can) coconut milk
1 cup sliced chicken breast
30-40 Thai eggplant, mini size
6-8 kaffir lime leaves, each leaf torn in two
1 tablespoon fish sauce
1/2 tablespoon sugar
5 Thai chile peppers
fresh basil leaves for garnish

Method

In a wok, heat the oil and fry the curry paste for one minute. Add coconut milk and bring to a boil. Add chicken, eggplant and kaffir lime leaves. Season with fish sauce and sugar. Keep on medium heat until chicken is cooked, then add basil and chile peppers. Serve with freshly-steamed Thai jasmine rice.

Email This Recipe

Send this recipe to yourself or a friend.

Comments

Shaun

January 22nd, 2009
3:30 PM

Alex

February 6th, 2009
4:41 PM

Anonymous

June 3rd, 2009
12:02 AM

Leigh

January 8th, 2011
7:49 PM

Anonymous

October 28th, 2012
3:59 PM

Dani

September 21st, 2014
10:16 PM

Add a Comment

Related Recipes

Green Curry with Fresh Chile, Chicken, Eggplant & Kaffir Lime

Green Chicken Curry, 'Gaeng Khiao Wan Gai'

Thai Chicken with Hot-Sour-Salty-Sweet Sauce

Spicy Thai Chicken with Fresh Thai Basil, 'Gai Pad Grapao'

Essential Thai Pantry

| | |
| --- | --- |
| | See the ingredients and cookware that every Thai kitchen should have. |

Find Another Thai Recipe

Search By: Name | IngredientsNeed more help? Check out our Thai Recipe Helper

Start typing the name of the recipe you are interested in.