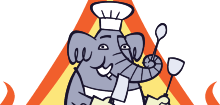 ImportFood.com

ImportFood.com
Thai Chicken Fried Hat Yai Style, 'Gai Tod Hatyai'

Buy ingredients for this recipe!

When chicken is fried this way, it comes out dry rather than greasy. The secret is to cook the chicken two times--first at low heat, then again at high heat. This kind of fried chicken is so tasty when served with sweet chilli sauce. The coating is fragrant and delicious, and it's called "Hat Yai" which is a province in Southern Thailand. If you like fried chicken, give this Thai-style version a try.

Ingredients

15 chicken wings
1 whole head garlic
2 teaspoon coriander seed
1/2 teaspoon white pepper powder
6 tablespoons fish sauce
3 teaspoons sugar
1/2 cup rice flour
Sweet chilli sauce for dipping

Method

In a mortar & pestle, pound peeled garlic. Add coriander seed and pound the mixture into a smooth paste. Add Thai pepper powder, and pound together in the mortar.

Separately, in a large mixing bowl, stab your chicken wings with a fork. Transfer the spice paste to the bowl of chicken. Add fish sauce and sugar, and knead it all together well with your hands. Place this in a ziploc bag for best results. Marinade it in the fridge for at leaste 2 hours, more if you prefer.

Remove from fridge and place in a large bowl. Sprinkle rice flour all over the wings. Mix well to coat the wings.

In a saucepot, heat several cups of vegetable oil to medium/low. If the oil is too hot, the skin of your wings will brown too early. It may take some practice. Add a few wings to the oil and fry at low heat for 12-15 minutes. The wings should be golden brown. Remove the wings and set aside to drain, and cool a bit.

Next, increase the heat of your oil to high. Fry each piece again, just 2-3 minutes. The wings will turn a darker brown and nice and crispy. Remove from oil, serve with a generous side of sweet chilli sauce, and Enjoy!

Thai Sweet Chilli Dipping Sauce

Mae Pranom is the true original brand known to all Thai people and offered in corner stores & sidewalk chefs throughout the country. A perfect sauce to dip your Gai Tod Hat Yai.

Mae Pranom dipping sauce is more robust and has slightly higher chile heat than Mae Ploy brand (Mae Ploy brand is more familiar outside of Thailand due to marketing).

Most commonly used as a delicious as a dipping sauce for any kind of fried chicken or barbeque chicken, but also goes well with shrimp, fish cake, spring roll, sausage etc.

We love this sauce and highly recommend it.

Packed in a beautiful glass bottle with attractive label, Mae Pranom is a very large producer employing the highest quality standard.

You might also like our:
Mae Pranom brand Pineapple Chilli Sauce
Mae Pranom brand Som Tum Sauce

Ingredients: sugar 40%, red chile 20%, garlic 20%, vinegar 15%, salt 5%. No additives. Product of Thailand.

Street Vendor Video: How to make a sweet chile dipping sauce

Thai Street Vendor Video

All of our videos can be found in our Thai Street Vendor Videos section.

Email This Recipe

Send this recipe to yourself or a friend.

Comments

Howard

March 22nd, 2010
4:04 PM

Howard

March 23rd, 2010
11:09 AM

Jim B.

April 28th, 2012
8:19 PM

Bei

May 8th, 2013
12:32 AM

Anonymous

October 23rd, 2013
5:20 PM

fancythis

February 1st, 2014
1:26 PM

Add a Comment

Related Recipes

Stuffed Chicken Wings, 'Peek Gai Yat Sai Goong'

Thai Chicken with Hot-Sour-Salty-Sweet Sauce

Green Curry with Fresh Chile, Chicken, Eggplant & Kaffir Lime

Thai-Style Wide Noodles In Thick Sauce, 'Lad Na'

Essential Thai Pantry

| | |
| --- | --- |
| | See the ingredients and cookware that every Thai kitchen should have. |

Find Another Thai Recipe

Search By: Name | IngredientsNeed more help? Check out our Thai Recipe Helper

Start typing the name of the recipe you are interested in.