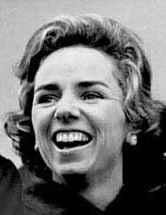 "Mrs Kennedy Loves
This Sauce"
Sweet Chilli Sacue for Chicken, Mae Ploy brand
This distinctive, slightly sweet chili sauce is ideal with chicken as well as seafood, vegetable dishes and as a dipping sauce for spring rolls & dim sum. Recently someone told us that they mix a few tablespoons into freshly-made popcorn!
Mae Ploy is a fairly thick sauce, and if you've ever purchased barbeque chicken from a street vendor in Thailand, it was undoubtedly served with this sauce.
Packed in a nice glass bottle (large and small).
Ingredients: sugar, water, pickled red chilli, vinegar, garlic, salt, xanthan gum. No preservatives and no artificial coloring. Product of Thailand.
You might find this of interest: Mrs Robert F Kennedy (Ethel Kennedy) is a repeat customer of ImportFood.com, purchasing this sauce in the 10 oz bottle. We emailed her asking for a personal endorsement, and she promptly responded with "Mrs Kennedy Loves This Sauce." If it satisfies the refined taste of Mrs Kennedy you too might like our Mae Ploy sweet chile sauce.
And from Alaska: "I have been using Mae Ploy Sweet Chili Sauce for years while guiding in rivers in Alaska. I cook fresh salmon right on the river and my clients have raved about this sauce. So far, 25 Chefs and numerous clients from all over the world now use this sauce in their recipes. Thanks alot for making it available to me, as I had a hard time locating this item, once I was introduced to it. From: John Bell, Katmai Lodge - Alaska."
Similar Product: Mae Pranom brand (slightly more chile heat)
Also from Mae Ploy: Thai Style Salad Dressing
Street Vendor Video: How to make a sweet chile dipping sauce