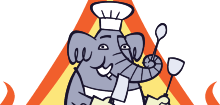 ImportFood.com

ImportFood.com
Drunken Noodles, 'Pad Kee Mao'

Buy ingredients for this recipe!

Kee Mao is a popular noodle dish served throughout Thailand and the direct translation is "drunkards noodles". They are typically made with a good deal of spicy heat, and we like this dish served with a cold beer. We also offer instant kee mao.

Ingredients (serves 6)

2 14-ounce packages wide rice stick noodles
12 garlic cloves, chopped
1/4 cup chopped fresh Thai chiles
1 1/2 pounds ground chicken
1/4 cup fish sauce
1/4 cup black soy sauce
1/4 cup Golden Mountain sauce
1 tablespoon sugar
4 large plum tomatoes, each cut into 6 wedges
2 green bell peppers, cut into strips
1/2 cup fresh Thai basil leaves (or regular fresh basil)

Method

Cook noodles in large pot of boiling salted water until tender but still firm to bite, stirring frequently. Drain.

Meanwhile, heat oil in a wok over medium-high heat. Add garlic and Thai chiles; saute 30 seconds. Add chicken and next 4 ingredients and saute until chicken is cooked through, about 4 minutes. Add noodles, tomatoes, and bell peppers; toss to coat. Transfer to large platter, sprinkle with basil leaves, and serve.

Email This Recipe

Send this recipe to yourself or a friend.

Comments

Adriana

June 17th, 2010
9:08 PM

Anonymous

February 20th, 2011
1:41 AM

Anne

May 18th, 2012
11:55 PM

Anonymous

June 18th, 2012
11:52 PM

Justin

September 1st, 2012
5:20 PM

Salem Straub

December 3rd, 2012
2:11 PM

Gretchen Von Gebhardt

January 22nd, 2013
12:37 PM

Anonymous

March 16th, 2013
10:37 AM

Mike Bailey

March 18th, 2014
9:25 PM

Mike Bailey

March 19th, 2014
2:08 AM

Anonymous

July 6th, 2014
3:30 PM

Anonymous

January 28th, 2015
12:48 AM

Carla

March 3rd, 2015
7:09 AM

Firedick

August 26th, 2015
4:19 PM

Desiree

September 7th, 2015
11:07 PM

Maggie

September 21st, 2015
10:00 PM

Brian

April 10th, 2016
2:08 PM

Add a Comment

Related Recipes

Chicken with Holy Basil Paste, 'Gai Pad Grapao'

Gai Pad Grapao

Steamed Thai Dumplings, 'Pun Sip Neung'

Spicy Thai Chicken with Fresh Thai Basil, 'Gai Pad Grapao'

Essential Thai Pantry

| | |
| --- | --- |
| | See the ingredients and cookware that every Thai kitchen should have. |

Find Another Thai Recipe

Search By: Name | IngredientsNeed more help? Check out our Thai Recipe Helper

Start typing the name of the recipe you are interested in.