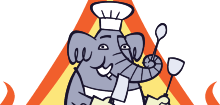 ImportFood.com

ImportFood.com
Pork Leg on Rice, 'Khao Kha Moo'

Buy ingredients for this recipe!

Khao Kha Moo is not only a favorite of Thailand's Prime Minister (a celebrity chef), it's also one of those ubiquitous dishes served by street vendors throughout Thailand. If you think it's hard to make at home--it's not! The recipe below makes a wonderful khao kha moo but be sure you get the right piece of meat. Ask a butcher for a pork shank, fresh. You must get it "fresh" which means it has not been cured or smoked. Even if it's frozen that's fine just state "fresh" to denote that you don't want it already smoked or cured. Hock (cut from the shoulder) is also a cut that works fine. Try to get a front leg, as the back legs contain more fat and less meat.

Ingredients

1 pork shank, about 2 lbs or more
3 cups vegetable or peanut oil
6-8 cups water or enough to cover the leg in the pot
1/4 teaspoon corriander powder or 5-6 fresh corriander roots
5 big cloves garlic
10 Szechuan peppercorns
2 cinnamon sticks, 1 inches each
2 star anise, whole
5 black peppercorns
1 teaspoon black soy sauce
3 tablespoons thin soy sauce
1 tablespoon Golden Mountain Sauce
1 teaspoon coarse sea salt
2-4 tablespoons palm sugar (depending on your taste)
1 teaspoon Chinese Five Spice powder
4-5 hard-boiled eggs, peeled
1.5 cups pickled mustard green
Fresh bokchoy, steamed

Method

Heat oil in a wok or large pan over medium heat. Add pork shank, and turn up the heat a bit. Fry until golden brown on both sides. Transfer the leg to drain on a paper towel.

Pound garlic, peppercorns, and corriander in a mortar and pestle until it becomes a fine paste. Set aside.

Place fried pig leg in a pot and cover with water. Add garlic paste mixture, cinnamon, star anise, black soy, thin soy, Golden Mtn, salt, palm sugar, 5-spice, and eggs. Bring to a boil then reduce heat, and cook for another 2-3 hours until tender.

While the pork is cooking, thinly slice the pickled mustard green, gently squeeze it to remove the pickling liquid, and rinse it one time in a colander. Then slowly boil it in a bit of water or chicken stock, about 1.5 cups, until water evaporates, and set aside.

Separately, pound 2-3 fresh Thai chile peppers in a mortar and pestle. Transfer to a small sauce bowl, add 1 teaspoon salt and 1/2 cup vinegar. This sauce should be served with the khao kha moo.

Serve the meat over steamed jasmine rice, topped with some pickled mustard green, steamed bokchoy and the chile-vinegar sauce.

Thai Street Vendor Photos

Email This Recipe

Send this recipe to yourself or a friend.

Comments

agnes

January 30th, 2012
8:20 AM

Nadav

July 17th, 2012
5:08 AM

Andy M

August 12th, 2012
7:59 AM

Anonymous

April 9th, 2013
11:37 AM

Kristiawan

April 12th, 2013
11:57 PM

Alfredo Di Stefano

September 23rd, 2013
12:31 AM

Add a Comment

Related Recipes

Chicken and Noodles in Spiced Broth

Fish in Salted Soybean with Ginger, 'Pla Tao Cheo'

Thai Pineapple Fried Rice, 'Khao Pad Sopparot'

Thai Chicken and Egg Soup, 'Jabchai Yaowalak'

Essential Thai Pantry

| | |
| --- | --- |
| | See the ingredients and cookware that every Thai kitchen should have. |

Find Another Thai Recipe

Search By: Name | IngredientsNeed more help? Check out our Thai Recipe Helper

Start typing the name of the recipe you are interested in.