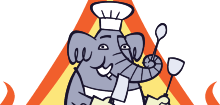 ImportFood.com

ImportFood.com
Penang Chicken Curry, 'Penang Gai'

Buy ingredients for this recipe!

Penang is a dry curry, probably originally "imported" from Malaysia. It can be prepared with any meat, and many fishes. This variety uses chicken.

Ingredients

1 cup chicken, cut into bite sized pieces
1/2 cup coconut milk
1 tablespoon chopped garlic
2 to 3 tablespoons Penang curry paste
2 tablespoons fish sauce
sugar to taste
3 kaffir lime leaves, shredded
10-15 Thai basil leaves, finely shredded

Method

Place a wok over medium high heat, and warm the coconut milk, but don't let it boil. Add the curry paste, and stir it until the oil begins to separate out and form a thin film, to bring out the maximum flavor. Add the remaining ingredients except the lime leaves and basil leaves, and simmer until the sauce is absorbed and thickened. Add the lime leaves and basil leaves and stir fry briefly before serving.

Garnish with julienned red chili, with Thai jasmine rice, and the usual Thai table condiments.

Note if you particularly like your curries hot, then replace the fish sauce in the cooking with nam pla prik (chillies marinated in fish sauce), that has had at least a week to mature.

Nam pla prik

Put two thirds of a cup of Thai chile peppers or jalapeno peppers in a 1 pint jar, and fill with fish sauce. Seal and keep for a week before using.

Thai Street Vendor Video

All of our videos can be found in our Thai Street Vendor Videos section.

Email This Recipe

Send this recipe to yourself or a friend.

Comments

shelley

January 10th, 2010
6:15 AM

Shaun

May 15th, 2013
1:15 AM

amanda

April 30th, 2014
2:56 AM

Anonymous

January 6th, 2015
5:45 PM

Add a Comment

Related Recipes

Thai Panang Curry Fusion

Green Curry with Fresh Chile, Chicken, Eggplant & Kaffir Lime

Thai Green Curry with Chicken & Eggplant, 'Gaeng Khiao Wan Gai'

Spicy Thai Chicken with Fresh Thai Basil, 'Gai Pad Grapao'

Essential Thai Pantry

| | |
| --- | --- |
| | See the ingredients and cookware that every Thai kitchen should have. |

Find Another Thai Recipe

Search By: Name | IngredientsNeed more help? Check out our Thai Recipe Helper

Start typing the name of the recipe you are interested in.