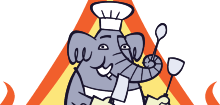 ImportFood.com

ImportFood.com
Long Beans in Sweet Soy, 'Kacang Panjang Kecap'

Buy ingredients for this recipe!

A very sweet, tasty, healthy way to enjoy greens. This Indonesia dish is easy to make.

We recommend serving this with Nasi Kuning (festive yellow rice).

Ingredients

3 cloves garlic, chopped
2 shallots, chopped
3 tablespoons vegetable oil
1 lb long beans, cut into 1" pieces
3-5 fresh Thai chile peppers, stemmed and halved lengthwise
3 tablespoons kecap manis (Indonesian sweet soy sauce)
1 fresh tomato, cored and cut into wedges
1 tablespoon fried shallots
Salt

Method

Put garlic, fresh shallots, and 2 tablespoons water into a mortar and pestle and smash into a smooth paste. Set aside.

Heat oil in a wok over medium-low heat. Add paste and cook, stirring, about 8 minutes. Add long beans and chiles, stir to combine. Add kecap manis and 1/4 cup water, stir to coat. Increase heat to medium high and stir-fry until beans are barely fork tender, 6-8 minutes. Add tomatoes and cook until just wilted, about 2 minutes. Season with salt to taste and transfer to a large bowl.

Let beans rest for about 10 minutes before serving, to allow flavors to intensify. Garnish with generous amount of fried shallots, and serve with festive yellow rice. Enjoy!

Email This Recipe

Send this recipe to yourself or a friend.

Comments

Add a Comment

Related Recipes

Spicy Fried Fish Cakes, 'Tod Man Pla'

Thai Fried Rice with Chicken

BBQ Ground Thai Chicken on Lemongrass with Peanut Sauce

Khanom Buang Yuon

Essential Thai Pantry

| | |
| --- | --- |
| | See the ingredients and cookware that every Thai kitchen should have. |

Find Another Thai Recipe

Search By: Name | IngredientsNeed more help? Check out our Thai Recipe Helper

Start typing the name of the recipe you are interested in.