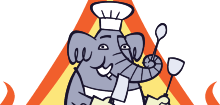 ImportFood.com

ImportFood.com
Vegetable Curry, 'Sayur Lodeh'

Buy ingredients for this recipe!

This recipe was featured in the October 2008 issue of Saveur Magazine, which is one of the most beautiful isues of a cooking magazine ever published. We already love Saveur but their Breakfast Issue of October 2008, featuring breakfast served around the world, was spectacular. We were so pleased to be featured as a supplier for the ingredients necessary to make Sayur Lodeh, a Singaporean vegetable curry.

Sayur Lodeh takes awhile to prepare, at least 1 hour, so be patient. It has an excellent aroma, and the final result is very rich and full of creamy, healthy, herbal flavor. The candlenuts add a wonderful nutty flavor. The chile peppers gives it a nice spicy edge also.

In Singapore this dish is often served for breakfast with toasted coconut, sambal, and steamed jasmine rice.

After serving sayur lodeh, we added a few drops of soy sauce to each dish for a nice added seasoning.

Saveur states that this serves four but we think it's more like an 8 person serving size, with jasmine rice.

Ingredients

1 1/2 tablespoon shrimp paste
3-4 medium fresh shallots, quartered
2 cloves garlic
6 whole dried chile, coarsely chopped
2 teaspoons turmeric powder
7 candlenuts
1/4 cup peanut oil
1 2" piece (or a bit more if you prefer) fresh galangal
1 cup coconut milk
1/2 lb green beans, stemmed and sliced into 1 1/2" lengths
2 carrots, cut into thick matchsticks
1 tablespoon sugar
3/4 teaspoon salt
8 oz firm fried tofu
1/4 head green cabbage, cored and cut into 1" squares (about 10 oz.)

Method

Place shrimp paste in center of a 5" square of aluminum foil, fold to make a parcel, and press shrimp paste into a 1/4"-thick disk. Heat foil parcel over medium-high heat for 1 minute (or a bit more) until paste smokes. Using tongs, turn parcel over and toast for 1-2 minutes more. Let cool for 30 seconds and unwrap parcel (shrimp paste should be black-brown around the edges and golden in the center).

Transfer shrimp paste, shallots, garlic, chiles, turmeric, and nuts to a mortar and pestle, and smash until it's mixed well, nearly a paste consistency.

Heat peanut oil in a 5–quart saucepan over medium heat. Add paste mixture and fry, stirring frequently to prevent scorching, until the garlic and shallots soften, about 10 minutes. Place fresh galangal into the mortar and smash it to bruise well, then add it to the saucepan. Add 1/2 cup coconut milk, and 4 cups water. Increase heat to medium and bring to a simmer while stirring constantly. Add the green beans, carrots, sugar, and salt and stir to combine. Reduce the heat to medium-low and cook, stirring occasionally, until the vegetables are tender, about 15 minutes.

For the tofu: we buy tofu which is already fried and packaged that way. If you can not find fried tofu, you can fry it yourself. To fry your tofu, pour enough peanut oil into a 2–quart saucepan that it reaches a depth of 1". Heat over medium-high heat until a deep-fry thermometer inserted in the oil reads 365°. Using tongs and working in small batches, add firm tofu and fry, turning often, until golden and crisp, about 5 minutes. Transfer the tofu to a paper towel–lined plate to let drain.

Add fried tofu and cabbage to the coconut milk and vegetable curry and simmer, stirring occasionally, until the cabbage is wilted and beginning to turn translucent, about 10 minutes. Add remaining coconut milk and cook until just heated through, about 2 minutes. Remove the galangal with tongs and discard. Season broth with salt, if you prefer, or we added soy sauce to each serving.

Transfer vegetables and broth with a large ladle to a serving bowl and allow the curry to rest for at least 15 minutes for the flavors to come together. Serve with jasmine rice.

Email This Recipe

Send this recipe to yourself or a friend.

Comments

mia Irawati

November 5th, 2012
11:18 AM

Indonesian

August 23rd, 2014
2:21 PM

Add a Comment

Related Recipes

Thai Pork Satay, 'Moo Satay'

Northern Thai Pork Curry, 'Gaeng Hanglay'

Chiang Mai Curry Noodles, 'Khao Soi'

Roasted Chile Paste in Oil, 'Prik Pao'

Essential Thai Pantry

| | |
| --- | --- |
| | See the ingredients and cookware that every Thai kitchen should have. |

Find Another Thai Recipe

Search By: Name | IngredientsNeed more help? Check out our Thai Recipe Helper

Start typing the name of the recipe you are interested in.