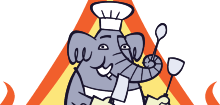 ImportFood.com

ImportFood.com
Thai Prawn Soup with Lemongrass, 'Tom Yum Goong'

Buy ingredients for this recipe!

Tom Yum is both hot and sour, and it's one of the main signature dishes that defines Thai flavor. We've perfected this recipe and assure you it tastes great.

Typically a chef will use a pork or chicken stock then add the basic fresh staples to create the tom yum, as in our video: Railroad Chef Prepares Tom Yum. We like to start with a simple vegetable broth instead, so our recipe starts with the broth instructions then continues with how to make the tom yum.

It's important to use "prik pao" in your tom yum and we have several brands, with slightly varying tastes depending on your preference.

Also -- See Our Thai Street Vendor Video: Thai Street Vendor Prepares Tom Yum.

Ingredients - Stock

1/2 cup yellow onion, peeled and quartered
1/2 cup carrot, chopped
1/2 cup celery, chopped
1/3 cup fresh shallot, peeled
3 - 4 cloves garlic, peeled
1 whole fresh kaffir lime, quartered

Method - Stock

Put 18 cups of water into a stock pot, add stock ingredients, cover and simmer for several hours.

Ingredients - Tom Yum

4 cups of your vegetable stock
2 stalks fresh lemongrass, lightly pounded, sliced diagonally
3 small slices fresh galangal (don't add too much galangal)
3 tablespoons fish sauce (more to suit your taste)
3 tablespoons lime juice (more to suit your taste)
3 - 4 straw mushroom or local fresh mushrooms, halved or whole
3 fresh kaffir lime leaves, shredded
3 - 4 crushed fresh Thai chile peppers (or more to suit your taste)
2 teaspoons "prik pao" roasted chile in oil


20 large shrimp




Fresh cilantro for garnish

Method

Wash the prawns and shell them without removing the tails. Bring stock broth to a boil. Add lemongrass, galangal, fresh chile, and lime leaves. Bring back to a boil then add mushrooms, fish sauce, prik pao and lime juice. Add prawns. As soon as prawns turn pink (cooked through) serve garnished with cilantro.

A popular variation is to serve tom yum "sai nam kon" which means a spoonful of coconut milk or, many street vendors will add a spoon of evaporated milk. We like tom yum nam kon and enjoy adding tablespoon of our Tom Kha to it.

Note that a popular way to make this dish is with a ready-made tom yum paste or tom yum cubes. ImportFood.com has some options for you. Our Instant Tom Yum Paste, is imported from Thailand and a pretty good product for making tom yum but you'll need to adjust some flavors. Add two tablespoons Tom Yum Paste to three cups boiling water, add 1.5 teaspoons salt, add mushrooms and prawns, add 1 tablespoon fresh lime juice, add 5-7 Thai chile peppers and onions, and serve garnished with cilantro.

An alternative to Tom Yum Paste is our Tom Yum Cubes or Tom Yum Spice Mix which you can use to make the above soup. These alternatives also add fragrant, delicious Tom Yum flavor to just about any kind of noodles, and both are quite popular in creating "fusion" type Pan-Asian foods blending Thai and western foods.

Serve Tom Yum in Style. "Hot Pot" bowl with lid.

Traditional method of serving all kinds of Thai soups, in particular Tom Yum and Tom Kha. Many Thai restaurants use this pot with a bit of sterno fuel in the bottom tray, as shown below, or use a small tea lite candle at the base to keep the soup hot. Campers have reported that this is a great little pot because it allows easy heating of food at the campground. It's like a little stove.

This is a good size, 24 cm in diameter (10 inches), capacity of 8 cups. Good for restaurant or home use.

Made of relatively thick, sturdy, buffed, shiny aluminum. We're certain you'll love serving soup in this hot pot. The lid has two handles and the side of the pot has handles for ease of use. Made in Thailand.

Prik Pao for Tom Yum

The freshest and most delicious "Prik Pao" you will ever taste. This is the "Yellow Label" that Mae Pranom makes for the local Thai market. It's made specifically for Tom Yum Goong but we find it's great just spooned over freshly steamed rice (then mixed to incorporate the prik pao into all of the rice) or added when making fried rice. We like it as a simple dip for fresh vegetables.

You get 32 oz of prik pao in each can, so this is a large quantity and allows for generous use. On a per-ounce basis, this is less expensive than our 8 oz jar of white label prik pao.

The top opens up like a paint can, just use the handle of a spoon to pry it up. The Prik Pao is packed inside the can, in a modern, strong plastic pouch (see picture below). Just open the pouch and pour it back into the can for storage in your pantry.

Makes a fantastic gift for any Thai person you may know, as this is very rare in USA aside from our shop. We've never seen it offered before outside of Thailand.

Ingredients: sugar, salt, vegetable oil, onion, garlic, dried chilli, dried shrimp, tamarind, shrimp paste. No preservatives. Made in Thailand.

Fresh Tom Yum Kit

At most morning markets in Thailand, and even in local neighborhood 7-11 shops, a "Tom Yum Kit" is sold containing a handful of lemongrass, galangal, chiles, lime leaves, and if you're lucky a lime or two. Sold in a plastic bag, ready to take home and cook up your own tom yum soup.

We have a nice variety of excellent quality fresh Thai herbs shipped to you via 2-3 Day Priority for a really great price. This is a special kit just for tom yum, but you can use these fresh ingredients for so many other Thai recipes as well.

You get stalks of fresh lemongrass, a handful of fresh Thai chiles, fresh lime leaves, a chunk of fresh galangal, and three fresh limes. Click for details.

Thai Street Vendor Video

All of our videos can be found in our Thai Street Vendor Videos section.

Thai Street Vendor Photos

Email This Recipe

Send this recipe to yourself or a friend.

Comments

Pat Brookes

April 23rd, 2009
2:34 PM

Pauline

May 18th, 2009
9:31 PM

Kim

June 23rd, 2009
12:39 PM

Anonymous

August 27th, 2009
5:43 PM

Charlie

September 24th, 2009
7:51 PM

Mary Redfield

October 13th, 2009
5:00 PM

Achara

October 15th, 2009
8:24 PM

chef rex

February 1st, 2010
7:44 AM

Fai

May 18th, 2011
6:14 AM

tc

February 16th, 2012
3:04 AM

Novosibirsk

May 2nd, 2012
1:01 AM

Anonymous

January 8th, 2013
9:26 AM

Leela

February 14th, 2013
3:57 PM

Anonymous

April 6th, 2013
6:12 PM

Anonymous

April 9th, 2013
9:53 PM

Jane

April 20th, 2013
8:25 PM

NicholasM

November 22nd, 2013
10:35 AM

H

March 29th, 2014
4:36 PM

Shima Zainal

March 31st, 2014
3:46 AM

Anonymous

June 1st, 2014
8:43 AM

Bethica Das

June 30th, 2014
5:32 AM

Anonymous

October 30th, 2014
5:08 AM

Anonymous

March 19th, 2015
10:20 PM

Wayne

February 8th, 2016
8:56 AM

Add a Comment

Related Recipes

Tom Yum Hot Dogs, Thai-American Style

Thai Chicken with Hot-Sour-Salty-Sweet Sauce

Thai Ginger Chicken Soup, 'Tom Khing Gai'

Pork and Lemongrass Meatballs in Lettuce Cups

Essential Thai Pantry

| | |
| --- | --- |
| | See the ingredients and cookware that every Thai kitchen should have. |

Find Another Thai Recipe

Search By: Name | IngredientsNeed more help? Check out our Thai Recipe Helper

Start typing the name of the recipe you are interested in.