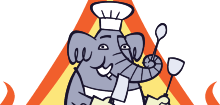 ImportFood.com

ImportFood.com
Thai Stir-Fried Vegetables, 'Pad Phak Ruam Mitr'

Buy ingredients for this recipe!

Ruam mitr means "everything mixed together" and in this recipe feel free to use any seasonal vegetables. We like this as a pure vegetarian recipe but you can substitute oyster sauce instead of soy sauce for a non-vegetarian version.

Ingredients

2 tablespoons vegetable oil
1 tablespoon chile oil
1 tablespoon coarsely chopped garlic
1 cup broccoli florets
1/2 cup cauliflower florets
1/4 cup shallots, sliced
3 tablespoons water
1/2 cup carrots, sliced
1/2 bell pepper, sliced
1/4 cup snow peas
1/4 cup mushrooms, sliced
2 tablespoons soy sauce
1 tablespoon lime juice
1 tablespoon palm sugar
1 cup spinach leaves
1/2 teaspoon Thai pepper powder

Method

Heat vegetable oil and chile oil together in a wok or skillet over medium heat, add garlic and stir until golden brown. Add broccoli, cauliflower, shallots and water. Saute until tender, about 2 minutes, stir in all other ingredients except spinach and pepper powder. Stir fry until just cooked but still crispy. Quickly stir in spinach and remove from heat. Transfer to serving plate, sprinkle with Thai pepper powder. Serve with steamed Thai jasmine rice

Thai Street Vendor Video

All of our videos can be found in our Thai Street Vendor Videos section.

Email This Recipe

Send this recipe to yourself or a friend.

Comments

Anonymous

July 20th, 2009
12:28 PM

Anonymous

September 8th, 2009
6:44 PM

James Elkins

October 12th, 2009
11:41 PM

blessie

January 5th, 2010
7:14 PM

Anonymous

October 11th, 2011
5:47 AM

Bunny

September 4th, 2012
5:52 AM

Anonymous

April 19th, 2014
10:25 AM

Add a Comment

Related Recipes

Stir-Fried Vegetables and Tofu, 'Pad Phak Taohu'

Thai Vegetarian Noodles

Vegetables with Tofu Dip, 'Pak Namjim Tofu'

Northern Thai Pork Curry, 'Gaeng Hanglay'

Essential Thai Pantry

| | |
| --- | --- |
| | See the ingredients and cookware that every Thai kitchen should have. |

Find Another Thai Recipe

Search By: Name | IngredientsNeed more help? Check out our Thai Recipe Helper

Start typing the name of the recipe you are interested in.