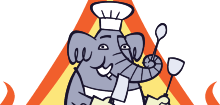 ImportFood.com

ImportFood.com
Thai Coconut Pudding, 'Khanom Krok'

Buy ingredients for this recipe!

Kanom Krok is a special coconut pudding that's unique to Thailand, often prepared on the streetside by vendors who make it to order (see our street vendor video below). There are different minor variations, depending on the chef, and it's always prepared in a cast iron "kanom krok pan" which we offer.

Usually the pan is placed directly over charcoal in a round clay oven same as our Tao Burner (see photos below), but the pan works fine on a gas range or electric stovetop. We recommend making sure the pan is thoroughly heated but over medium (not high) heat.

Khanom krok has two layers--first the rice flour mix is cooked, followed by the sweet coconut milk topping. Too much heat will burn the bottom layer, so it might take a bit of practice to get the pan temperature just right, and a nice crispy bottom. Our recipe is very simple, and delicious!

Ingredients (bottom layer)

1 cup rice flour
2 cups water
1/3 cup steamed (cooked) jasmine rice
1/2 cup grated, dried coconut (available in the baking section of most supermarkets)
1/2 teaspoon salt

Ingredients (topping)

1 cup coconut cream
1/2 cup sugar
1.5 teaspoon salt
1 green onion (scallion) chopped (optional)

Method (bottom layer)

Mix 1 cup rice flour with 1 cup water in a bowl. Mix well, and let it sit for at least an hour (overnight is ok).

In a blender, mix 1/3 cup cooked jasmine rice with 1/2 cup grated coconut, add the salt, then and add 1 cup water. Blend together until finely mixed. Pour this into the bowl of rice flour and water that's been sitting. Mix well by hand. Set aside.

Method (topping)

Mix coconut cream, sugar and salt in a bowl until dissolved. If you decide to use green onion, add it now.

Cooking the Khanom Krok

The video below is an excellent way to learn the method of cooking khanom krok. Heat the khanom krok pan over medium heat, and brush with vegetable oil when hot. You can also cook the khanom krok over our Tao Charcoal Burner.

Using a spoon (our Thai spoon, with sharp edges and made of stainless steel, works perfectly), add the bottom layer mixture into each hole so it's about 2/3 full. Wait a moment, then pour about 2 teaspoons of the topping mixture into each hole to fill it up. Cover the pan with a lid (any lid will do, just set it on top of the pan), and cook until the cups turn slightly brown and crisp around the edge (about 8-10 minutes, or a bit more). Remove each cake, and serve warm. Usually the cakes are served as two (one placed on top of the other as shown below). Enjoy!

Thai Street Vendor Video

All of our videos can be found in our Thai Street Vendor Videos section.

Thai Street Vendor Photos

Email This Recipe

Send this recipe to yourself or a friend.

Comments

Anonymous

April 5th, 2010
7:09 PM

Carolyn

November 29th, 2010
3:00 PM

sarah

February 13th, 2012
3:27 PM

The Coz

April 6th, 2012
6:24 PM

Anonymous

August 25th, 2012
5:59 AM

Anonymous

October 17th, 2012
11:26 PM

Anonymous

November 30th, 2012
2:55 PM

Anonymous

March 20th, 2013
8:22 AM

Changpuak

March 20th, 2013
8:33 AM

Anonymous

September 1st, 2013
7:04 PM

linda

April 4th, 2014
2:03 PM

ImportFood.com

April 5th, 2014
12:52 PM

Anonymous

April 23rd, 2014
8:04 PM

Add a Comment

Related Recipes

Thai Fried Rice with Chicken

Krong Kraeng Krop

Rice with Salty Chili Sauce & Seafood, 'Khao Kruk Prik Klua'

Fried Thai Peanut Cookie

Essential Thai Pantry

| | |
| --- | --- |
| | See the ingredients and cookware that every Thai kitchen should have. |

Find Another Thai Recipe

Search By: Name | IngredientsNeed more help? Check out our Thai Recipe Helper

Start typing the name of the recipe you are interested in.