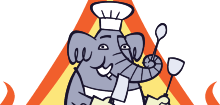 ImportFood.com

ImportFood.com
Grilled Meat Dipping Sauce, 'Nam Jim Jeaw'

Buy ingredients for this recipe!

Nam Jim Jeaw is a popular sauce for grilled meat. We offer a packaged "E-San Sauce" (see below) which is the same thing, so now you can make it from scratch. The flavor is unique, smokey from the roasted rice, sweet, spicy and sour.

Nam Jim Jeaw is delicious served with grilled pork, grilled fish, grilled chicken or bbq beef. Also goes well with Thai sticky rice.

We now offer Namprik Thai Tae, a similar dipping sauce that you may equally enjoy.

Ingredients

1/4 cup fish sauce
2 tablespoons tamarind concentrate
1 teaspoon salt
2 tablespoons sugar
1 tablespoon fresh lime juice
1 tablespoon ground Thai chile pepper
1 tablespoon fresh Thai chile peppers
1 tablespoon fresh shallots
2 spring onion, chopped
1 teaspoon roasted rice, khao koor

Method

In a small saucepan, heat fish sauce, tamarind concentrate, salt and sugar over medium low heat. Keep stirring to dissolve salt and sugar. Bring to a boil and remove from heat, let cool.

When the sauce is completely cool, add the rest of the ingredients. Mix well, and put a bit of fresh cilantro on the top.

NEW: Thai-Style Meat Dipping Sauce

This sauce from Lobo is packed in a new attractive square glass bottle, what they call "E-San Sauce". It would be a nice ready-made alternative to our recipe for the Nam Jim Jeaw. All natural ingredients, poured into a dish this sauce looks very attractive and delicious. You can see a really fresh mix of red chilli, coriander leaves, onion and tamarind.

Flavor is good, and not very spicy. The sauce has a nice substance, works just perfect for dipping meat and vegetables. Serve with jasmine rice or sticky rice for a nice snack or meal.

If you are expecting a nice spicy heat, all you would need to do is add a sprinkle of our "Thai Crushed Chilli" which would give it a good burst of spice and keep the original authentic flavor.

Authentic Thai Recipes For Meat & Dipping You May Also Be Interested In:
Waterfall Beef, 'Neua Namtok'
Crying Tiger Beef, 'Seua Rong Hai'
Fish Powder With Chili Dipping Sauce
Thai Dipping Sauce From Hell, 'Nam Prik Narok'
Spicy Pork and Tomato Dip with Veggies, 'Nam Prik Ong'


Ingredients: fish sauce, tamarind, water, palm sugar, chilli, spring onion, long coriander leaves, mint leaves, roasted glutinous rice.

No msg, no artificial color, no preservatives.

Product of Thailand.

Email This Recipe

Send this recipe to yourself or a friend.

Comments

Melissa

May 12th, 2010
3:09 PM

lonnie

July 6th, 2010
9:26 AM

Anonymous

August 16th, 2011
6:28 PM

Anonymous

December 12th, 2012
2:01 PM

Anonymous

August 22nd, 2013
2:37 AM

Anonymous

December 31st, 2013
5:37 AM

Anonymous

July 4th, 2014
5:12 PM

Add a Comment

Related Recipes

Steamed Fresh Fish and Vegetables Thai-Style with Dipping Sauce

Larb Woonsen in Spring Roll Wrapper

Thai Chicken with Hot-Sour-Salty-Sweet Sauce

Assorted Thai Table Condiments

Essential Thai Pantry

| | |
| --- | --- |
| | See the ingredients and cookware that every Thai kitchen should have. |

Find Another Thai Recipe

Search By: Name | IngredientsNeed more help? Check out our Thai Recipe Helper

Start typing the name of the recipe you are interested in.