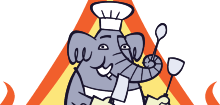 ImportFood.com

ImportFood.com
Thai Barbecue Chicken, 'Gai Yang'

Buy ingredients for this recipe!

Gai yang translates to "barbecued (or grilled) chicken", and can be prepared in many different ways, we demonstrate here two versions.

There are pictures below shared by visitors to this website, links to street vendor videos, and detailed instructions on how to prepare two of our own versions. Perhaps the most famous gai yang is sold by vendors in the seaside community of Bang Saen, where the bird is cut open along the belly, flattened with a few blows from the back of a cleaver, and pegged with a stick to hold it, then marinaded and grilled over charcoal.

Bangsaen-style gai yang is a yellow (turmeric-infused) chicken that's already been cooked, and they finish each order with a few minutes on their distinctive grills. The meat is flat and relatively thin, so we use thin-cut skinless breasts in our recipe. After some experimentation and advice from a very good Thai chef known for famous gai yang, we've created a version that starts off in the oven, and we know you'll love it. We also provide a recipe for traditional Thai bbq chicken (gai yang boran) using cornish game hens.

Thai chickens tend to be small, and tasty. When making traditional gai yang, you can use a 2 pound chicken, or cornish game hens, or other small poultry. Modify the marinade to suit your preference. Some chefs would omit the ginger, others add more garlic, etc. If you choose to use satay powder, it will give your gai yang a special "signature" flavor that no other can match--we highly recommend it.

Bang Saen Beach-style Gai Yang, Marinade

1/2 teaspoon whole white peppercorns
1/4 teaspoon salt
2 large cloves garlic
1 tablespoon turmeric powder
1/2 teaspoon coriander powder
1/2 teaspoon lemongrass powder
2 tablespoons sugar
2 tablespoons oyster sauce
2 tablespoons thin soy sauce
1 tablespoon coconut milk


Bang Saen Beach-style Gai Yang, Method

You will need about 2 pounds of boneless skinless chicken breast, preferably thin-cut. In a mortar and pestle, pound peppercorns into a powder. Add salt and garlic, then pound until it turns into a smooth paste. Add coriander, lemongrass, turmeric and sugar, pound together until well blended. Transfer to a large mixing bowl then add oyster sauce, thin soy sauce and coconut milk stir until smooth. Put chicken in the marinade mixture and knead (put gloves or your hands will turn yellow) to make sure the marinade gets all over the chicken. Cover and let it marinade overnight in the fridge.

Bake your chicken directly on a lightly-oiled oven rack, at 375 F. Lay some foil on the bottom of the rack to catch drippings. Bake for 30-35 minutes. At this point you can enjoy the chicken as it is, or let it cool down a bit then re-cook on a bbq grill over charcoal for a few minutes to finish it. Serve with sticky rice and sweet chili sauce for chicken as dipping. Enjoy!

Traditional Gai Yang, Marinade

1 Cornish game hen
1 head (about 2 tablespoons) garlic
1 teaspoon coriander seed
1/2 teaspoon turmeric powder
1/3 teaspoon sea salt
1/3 cup thin soy sauce
1/2 teaspoon Thai pepper powder
1 teaspoon sugar


Traditional Gai Yang, Method

Pound the coriander seed in a mortar and pestle, into a coarse powder (not too fine) set aside. Pound the garlic into a rough paste, set aside. Wash the chicken and rub it with fresh limes. Combine the marinade ingredients (coriander seed powder, garlic paste, turmeric powder, salt, soy sauce, pepper powder, and sugar) with 4 cups of water in a large bowl. Mix well. Add chicken, and marinade for an hour or more (overnight), the longer the better.

As a side note, you can give the marinade more strength by adding some ground black pepper, ground fresh ginger, and dark sweet soy sauce.

Place the chicken on a roasting pan. Preheat oven to 450F, then place chicken into oven and reduce heat to 350F, and cook for about 50 minutes (cook until internal temperature reaches 165F), and the skin is crispy brown.

This is best served with Thai sticky rice, and sweet chile sauce. You should also put some more fresh ground ginger on the table and the usual Thai condiments (we particularly like chilis marinated in sweet dark soy sauce with this one). You can also serve it with a simple green salad.

Thai Sweet Chilli Dipping Sauce

Mae Pranom is the true original brand known to all Thai people and offered in corner stores & sidewalk chefs throughout the country. A perfect sauce to dip your Gai Yang.

Mae Pranom dipping sauce is more robust and has slightly higher chile heat than Mae Ploy brand (Mae Ploy brand is more familiar outside of Thailand due to marketing).

Most commonly used as a delicious as a dipping sauce for any kind of fried chicken or barbeque chicken, but also goes well with shrimp, fish cake, spring roll, Northern Thai Sausage etc.

We love this sauce and highly recommend it.

Packed in a beautiful glass bottle with attractive label, Mae Pranom is a very large producer employing the highest quality standard.

You might also like our:
Mae Pranom brand Pineapple Chilli Sauce
Mae Pranom brand Som Tum Sauce

Ingredients: sugar 40%, red chile 20%, garlic 20%, vinegar 15%, salt 5%. No additives. Product of Thailand.

Street Vendor Video: How to make a sweet chile dipping sauce

Thai Street Vendor Video

All of our videos can be found in our Thai Street Vendor Videos section.

Thai Street Vendor Photos

Email This Recipe

Send this recipe to yourself or a friend.

Comments

Anonymous

June 5th, 2013
11:07 AM

Anonymous

June 22nd, 2013
11:11 AM

Anonymous

November 2nd, 2013
9:37 PM

Bryanmakeup

February 1st, 2016
10:38 PM

Add a Comment

Related Recipes

Lemongrass Chicken with Turmeric Rice

Sesame Chicken Kebabs

Gai Yang Takrai

Spicy Thai Chicken with Fresh Thai Basil, 'Gai Pad Grapao'

Essential Thai Pantry

| | |
| --- | --- |
| | See the ingredients and cookware that every Thai kitchen should have. |

Find Another Thai Recipe

Search By: Name | IngredientsNeed more help? Check out our Thai Recipe Helper

Start typing the name of the recipe you are interested in.