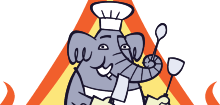 ImportFood.com

ImportFood.com
Waterfall Beef, 'Neua Yang Nam Tok'

Buy ingredients for this recipe!

In Thai language, nam tok is a waterfall. This dish is usually cooked using a barbeque (the juices drip onto charcoal hence the name waterfall) but you can fry or broil the beef just as well. It should be cooked rare to start with.

We also offer: instant nam tok mix and Mama instant namtok noodles.

A great dipping sauce to serve with this beef is made with our Namprik Thai Tae.

Ingredients

You need a 1 pound steak, cut fairly thick.

Marinade

1 tablespoon fish sauce
1 teaspoon tamarind concentrate mixed with 3 teaspoons water
1 tablespoon lime juice
1 tablespoon chopped Thai chile peppers

Mix the marinade, coat the steak with it and marinade it for at least 3 hours.

The steak is then barbequed, broiled or grilled until on the rare side of medium rare, cut into half inch thick strips and the strips cut into bite sized pieces. The meat can be kept cool until just before you want to eat.

Remaining ingredients

1/3 cup fish sauce
1/3 cup lime juice
2-3 tablespoons chopped shallots
2-3 tablespoons chopped coriander/cilantro (including the roots if possible)
2-3 tablespoons chopped mint leaves
2 tablespoons khao koor
1 tablespoon freshly roasted/fried sesame seeds
1-3 teaspoons freshly ground dried red chilis.

Method

In a wok bring a little oil to medium high heat and add the strips of beef, immediately followed by all the remaining ingredients. Stir fry until heated through (about a minute).

Serve with Thai sticky rice, or as part of a meal with pad Thai and a soup such as tom yum koong (hot and sour shrimp soup).

Enjoy. This is one of our all-time favorites.

Thai Street Vendor Video

All of our videos can be found in our Thai Street Vendor Videos section.

Email This Recipe

Send this recipe to yourself or a friend.

Comments

kirk

March 21st, 2009
9:29 PM

carol

August 17th, 2009
11:29 AM

Branden

April 5th, 2010
10:52 PM

Anonymous

April 27th, 2010
10:25 AM

Anonymous

November 4th, 2010
1:47 AM

Anonymous

November 19th, 2010
9:59 PM

Anonymous

November 30th, 2010
7:00 PM

Anonymous

February 2nd, 2011
12:36 AM

Anonymous

December 1st, 2011
5:27 AM

Pamela

May 10th, 2012
12:28 PM

Gus

February 12th, 2013
12:49 PM

Justin

July 14th, 2013
2:08 AM

Ken

November 4th, 2013
2:33 AM

Add a Comment

Related Recipes

Thai Beef Salad, 'Yum Nuea'

Charcoal Broiled Beef in Hot-Sweet Sauce, 'Neua Yang'

Thai Beef Flambe, 'Neua Pad Kimao'

Crying Tiger Beef, 'Seua Rong Hai'

Essential Thai Pantry

| | |
| --- | --- |
| | See the ingredients and cookware that every Thai kitchen should have. |

Find Another Thai Recipe

Search By: Name | IngredientsNeed more help? Check out our Thai Recipe Helper

Start typing the name of the recipe you are interested in.