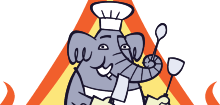 ImportFood.com

ImportFood.com
Thai Panang Beef

Buy ingredients for this recipe!

Panang beef is one of those recipes that everyone loves, whether it's kids or grandparents, college students or anyone else from any country in the world. Rich herbal flavors inspired by Indian influence in Thailand, and adapted to give it a unique Thai flavor. Here we've prepared a simple recipe that's sure to be a popular favorite. We also have a recipe for panang chicken but beef is probably the best way to enjoy panang.

Ingredients

About 2 cups beef steak, such as sirloin, cut into strips
1 cup large diced red bell pepper (or vegetable of your choice)
2 cups coconut milk
2 tablespoons panang curry paste
1-2 tablespoons fish sauce
2 tablespoons palm sugar
2 tablespoons roasted peanuts
3-4 fresh kaffir lime leaves, slivered
3-4 fresh Thai chile peppers

Method

Crush the peanuts in a mortar and pestle. Set aside about 3 tablespoons of the coconut millk.

Heat the coconut milk, except for the 3 tablespoons set aside, in a wok or skillet until the oil comes to the surface. Add panang curry paste, and fry until it becomes aromatic. Add meat and cook until the meat is nearly done, then add bell peppers. Add fish sauce and palm sugar. Let it simmer for a few minutes.

Remove from heat. Top with 3 tablespoons coconut milk, slivered lime leaves, peanuts, and fresh Thai chilli peppers. Mix this up, serve with freshly steamed jasmine rice. Enjoy!

Thai Street Vendor Video

All of our videos can be found in our Thai Street Vendor Videos section.

Email This Recipe

Send this recipe to yourself or a friend.

Comments

Rolf

August 8th, 2009
11:39 PM

Bob

May 16th, 2010
2:41 PM

Ben H

April 24th, 2012
11:30 AM

Georgia Hitchcock

October 13th, 2012
6:20 PM

Jim B,

March 16th, 2013
5:41 PM

Kate

July 30th, 2013
11:31 AM

Johnny

August 15th, 2013
11:50 AM

David Amorde

October 25th, 2013
7:11 PM

Add a Comment

Related Recipes

Green Curry with Fresh Chile, Chicken, Eggplant & Kaffir Lime

Thai-Style Peanut Sauce, 'Nam Jim Satay'

Red Curry Chicken with Bamboo Shoot

Thai Prawn and Pineapple Curry, 'Kaeng Khua Saparot'

Essential Thai Pantry

| | |
| --- | --- |
| | See the ingredients and cookware that every Thai kitchen should have. |

Find Another Thai Recipe

Search By: Name | IngredientsNeed more help? Check out our Thai Recipe Helper

Start typing the name of the recipe you are interested in.